About Our Program
Through our Bachelor of Science in Medical Lab Sciences degree, you can help patients and families discover a diagnosis and treatment and help the prevention of disease.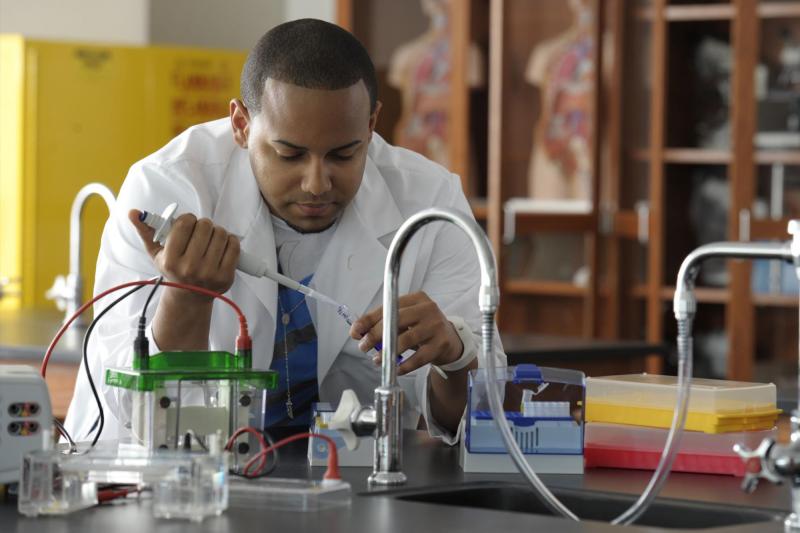 Vital to Patient Diagnosis and Treatment
As a medical lab scientist, also known as a medical technologist or clinical laboratory scientist, you are the health professional who provides laboratory information and services needed for the diagnosis and treatment of disease. Approximately 75 percent of patient care requires lab testing. Medical lab scientists can work in a variety of roles, from pharmaceuticals to forensics, and perform a variety of lab tests, examining and analyzing blood, body fluids, tissues, and cells, evaluate lab tests, design and conduct studies, and study the effectiveness of lab tests. You are responsible for performing scientific testing on biological specimens and reporting results to physicians.
Your MLS degree coursework will prepare you for the competencies, ethics, and professionalism outlined by the American Society for Clinical Laboratory Science, allowing you to take the national certification exam with confidence.
Students also will receive their clinical training at AdventHealth, known for its delivery of world-class whole-person care.
AHU is accredited by the Southern Association of Colleges and Schools Commission on Colleges, and our Bachelor of Science in Medical Lab Sciences is pending accreditation from the National Accreditation Agency for Clinical Laboratory Sciences.
 
Is a Bachelor's in Medical Laboratory Sciences Right for Me? 
If you are a lab tech or health care worker looking for new professional challenges, our degree program can help you advance your career.
If you are in high school and enjoy biology, chemistry, or molecular science as well as solving puzzles, a career in medical lab science may be a good fit for you.  If your ultimate goal is to attend medical school or earn your Physician Assistant degree, a medical lab science degree can give you the advantage of a wonderful educational foundation and world-class clinical experience for medical school admissions.
According to the U.S. Bureau of Labor Statistics, employment of medical scientists is projected to grow 17 percent between 2020 and 2030. Median annual pay for medical lab scientists, according to the Bureau, is $91,510.
Career opportunities include:
Medical laboratory management
Clinical supervisor
Research and development
Forensics
Technical specialist
Let's Get Started Together
At AdventHealth University, we're committed to educating, nurturing and supporting the next generation of healthcare professionals. It's a responsibility we take seriously and one we take great honor in. We believe we offer a truly exceptional experience for those who share our passion for healing and caring for one's whole health – in body, mind and spirit. Take the firs step toward a rewarding educational experience. Start your application today.