AHU, Full Sail University Earn Two Global Technology Awards
Full Sail University and AdventHealth University (AHU) earned two "Made with Unity" recognition awards at the first United Government and Aerospace Customer Recognition and Awards Gala, which took place during the Interservice/Industry Training, Simulation and Education Conference (I/ITSEC) on Nov. 28.
Team members and students from Full Sail University and AdventHealth University receive Made With Unity awards on Nov. 28, 2022.
Utilizing Unity's development solution, Full Sail and AHU were able to create proofs of concept for both their honored projects – the Nurse IV Trainer and the DaVinci Xi Surgical Robot Trainer. Unity is a world-leading platform that allows companies to build real-time 3D projects for various industries across games, animation, automotive, architecture and more. Under the guidance of Full Sail University's course director Dan Mapes and Program Director of the Game Design Masters and Simulation & Visualization Bachelors Rob Catto, students and alumni across Full Sail's Simulation and Visualization Bachelor of Science degree program and Game Design Master of Science degree program collaborated alongside AdventHealth's DaVinci Robot educator Babs Morrissiey and AHU's Director of Simulation and Innovative Technologies Todd Larson to bring the projects to life.
A Full Sail University team member demonstrates how the Nurse IV Trainer provides medical training simulation for medical practitioners to practice IV insertions on a patient's arm.
The Nurse IV Trainer is a virtual reality (VR) medical training simulation for medical practitioners to practice IV insertions on a patient's arm. The technology utilizes Oculus Quest 2 and SenseGlove Nova Haptic Gloves. The prototype is intended to make medical training cost effective. Traditionally, health care practitioners must learn IV skills on simulated skills trainers that need to be rebuilt between learners.
The Da Vinci Xi Surgical Robot Trainer proof of concept creates immersive, gamified, virtual reality simulation docking application training. The minimally invasive surgical tool is used to perform a variety of surgical procedures, including gynecological, urological, head and neck, thoracic, colorectal, cardiac and general surgeries.
"Our relationship with AHU has aided our students in creating projects that serve as proof of concepts for real-world issues," Catto said. "Thank you to Dan Mapes, our students, graduates, and AHU partners for the continued dedication to these projects. Receiving this honor is truly humbling."
In October, Full Sail University and AHU officially opened the doors to the Full Sail University Healthcare Technology Lab Powered by AdventHealth University. The lab is used to develop and demonstrate joint health care research and projects, conduct progress reviews and expand learning opportunities for students.
"We are thrilled to be honored for these collaborative proof-of-concept projects alongside our partners at Full Sail University," said Brandon Baker, MHCI, senior program manager – innovative technologies for AHU. "AdventHealth University is committed to transforming the practice of health care, and these two endeavors are outstanding examples of how we can put our collective minds together to use innovative technology for leading-edge health care solutions."
Related News Stories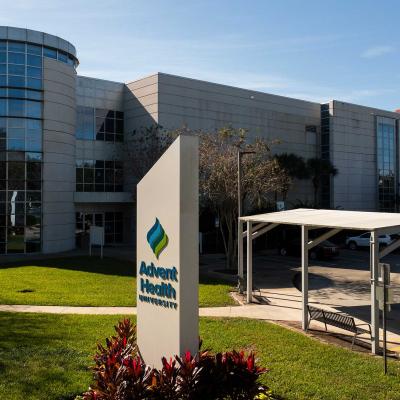 News
A list of the students who earned academic honors during the Fall 2022 trimester.