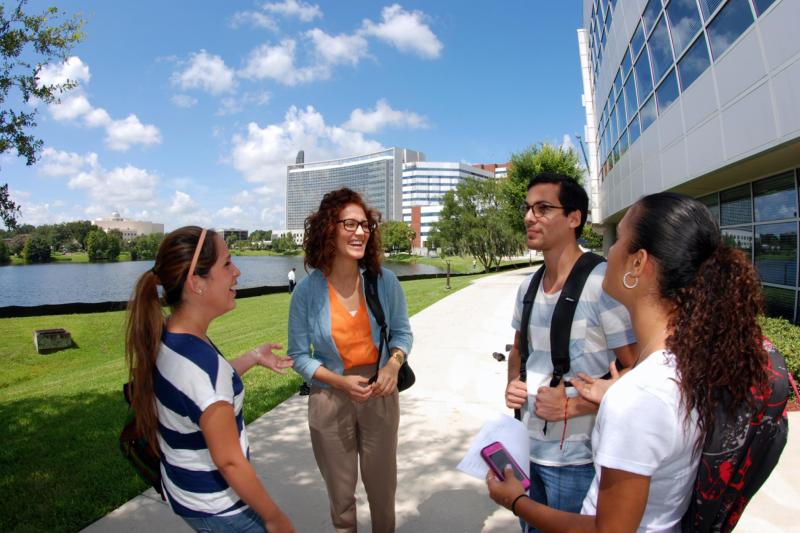 A Place to Grow and Thrive
Welcome to the AdventHealth University campus, a place to make friends, find mentors, prepare for your career and follow God's call. Here, you'll find a college campus with state-of-the-art facilities and an environment that will lift you up in body, mind and spirit.
View Our Video Tour
The only thing that could make our campus look better is you. View our video campus tour for a first-hand look at the facilities that make AdventHealth University a great place to take your next steps toward a career in medicine.
1 items. To interact with these items, press Control-Option-Shift-Right Arrow.
Your Community, Your Campus
6 items. To interact with these items, press Control-Option-Shift-Right Arrow
Student Life

The classroom is just the beginning. At AHU, you'll find opportunities to connect with other students, participate in campus ministries, embrace campus life, and explore your interests, all in a Christ-centered community.

Our Facilities

With state-of-the-art technology for hands-on learning, our Orlando campus connects you to the world-class facilities and staff at AdventHealth.

Transportation and Parking

Orlando campus is just east of AdventHealth Orlando. And it's easy to access by car or SunRail commuter train.

University Housing

AHU offers student housing, with options for students of different ages. Explore your options for living in community with your fellow students.

Bookstore

Find the essentials you need for your classes and life on campus at the AHU bookstore, located on the first floor of the Campus Center Building.

Policies and Campus Safety

We care deeply about the experiences our students have at AHU and our policies and campus security programs are in place to ensure your safety and wellbeing.
Get Started on Your Application Today
Learn from today's healthcare leaders and position yourself to lead the future. Take the next step towards your career goals and start your AHU application today.