Military Chaplain: Salary and Career Outlook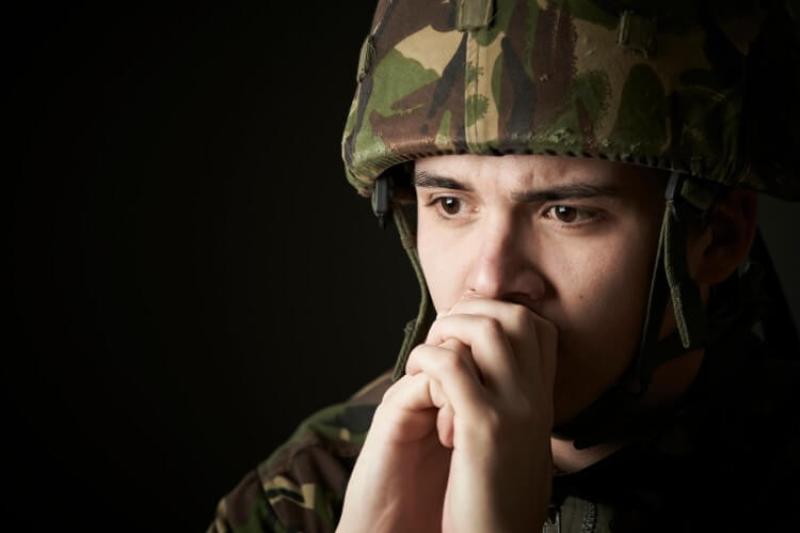 The freedom to practice one's religion is protected as a constitutional right. Since service members often live on U.S. military bases and can be deployed overseas, military chaplains accommodate the religious needs of military personnel and their families when they can't be part of a local religious community.
Chaplains have helped military personnel and their families walk through spiritual, emotional, and physical challenges since 1775. They continue to play an essential role in the lives of military personnel who are coping with issues such as the loss of a fellow soldier, trying to maintain long-distance marriages, or doubting their faith in a higher power.
Preparing for a career as a chaplain in the military requires both theological and military credentials. Earning a Master of Science in Spiritual Care degree and gaining experience in the field can help prospective chaplains develop the skills and the knowledge they need to provide military personnel with spiritual care.
What Does a Military Chaplain Do?
Military chaplains help cultivate the spiritual health and wellness of military personnel, their dependents, and their families by offering religious services, counseling sessions, and ceremonies. While some chaplains offer sermons and worship services specifically for certain groups of believers, most services are open to individuals from all denominations.
Chaplains represent approximately 200 different religions and denominations across the country. They serve as confidants of and advisers to military personnel on a variety of spiritual matters, from believing in a higher power to questioning the meaning of life. They also offer counseling for military personnel regarding personal and moral issues such as substance abuse, relationship fidelity, using weapons against others, and the ethics of patriotism versus personal beliefs.
Work on Military Bases
On military bases, chaplains aim to lead inclusive worship services and give sermons that address common life challenges that military members experience, to help individuals from all backgrounds develop the strength to overcome obstacles. Some work-related issues can include deployment, marriage and family struggles, fear of being injured, and grief from losing comrades.
Sermons can cover topics ranging from religious beliefs to staying calm under pressure. Some chaplains may devote their services to reading certain religious texts or conducting traditional sacraments such as baptisms. They can talk with their congregations after each service, getting to know the individual families and children.
When a spouse is deployed, different issues such as time zone differences and work schedules can make maintaining a long-distance relationship difficult. Military personnel working through specific problems in their marriage can go to relationship counseling with chaplains. As well as meeting one-on-one with military personnel, chaplains provide spiritual care and counseling to military families.
Some chaplains cultivate spaces for military personnel to get to know each other by organizing small groups of families in the same stage of life where they can talk about issues affecting their lives. Chaplains also may develop educational programs or small study groups where members can feel like a tight-knit community. Establishing regular services for children and youth can also fall under a military chaplain's job description.
Work in Combat Zones
Chaplains serve as commissioned officers in the military and go into combat zones with service members. However, they don't bear arms or engage in combat. They counsel service members about deployment, grief, combat stress, family matters, religious beliefs, moral issues, substance abuse, and other topics. When military members have a break, chaplains can organize small retreats or seminars for them to take time to rest and recharge.
Salary and Job Outlook for Military Chaplains
The U.S. Bureau of Labor Statistics (BLS) includes military chaplains in the broad category of clergy and reports that their annual median salary is $50,400. The salary can range based on a chaplain's years of experience, education level, and job location, among other factors. The size of a base or camp can impact how much a chaplain earns. However, salaries in the highest 10% of the range average $86,970. In addition to salaries, chaplains may receive free on-site housing or a housing allowance, medical and retirement benefits, vacation pay, and other incentive payments from the U.S. military.
The BLS projects the number of jobs for clergy, including chaplains, will grow by 4% between 2019 and 2029, which is the same as the average projected growth for all jobs. Since 1789, the U.S. government has required chaplains to hold positions in the army, federal prisons, and the Veterans Administration. Even though not all military personnel have religious affiliations, the government ensures that they will have access to spiritual care providers should they want or need them. As long as members of the military continue to serve their country, the need for religious ministers and chaplains will be present.
How to Become a Military Chaplain
Becoming a military chaplain can take several years, as it requires individuals to have a strong educational, theological, and military background. The following steps can help an individual prepare for a position as a chaplain in the military:
Step #1: Earn a Degree
The process of becoming a military chaplain begins when an individual devotes several years to their education. Individuals can earn a bachelor's degree in any area, but common degrees are counseling, social work, biblical studies, or religious studies.
Graduate degrees should focus specifically on religious studies, so prospective chaplains typically earn a master's in spiritual care, divinity, theology, or a related field. Courses help graduate students better understand topics such as ethics, philosophy, spirituality, and world religions.
Studying ethics in graduate school can help chaplains develop the knowledge they need to talk with military personnel about ethical dilemmas they may have regarding warfare. World religions is another essential subject area since chaplains work with military personnel from different religious and cultural backgrounds. In fact, the U.S. Army's website explains that military chaplains should be open-minded and culturally aware since they are "spiritual leaders who reach out and provide spiritual guidance to anyone in need."
Step #2: Obtain Ordination
After earning an advanced degree, individuals who want to become chaplains in the military need to be endorsed and certified by a religious organization — such as a Jewish, Islamic, Buddhist, Catholic, Adventist, or other organization — that is recognized as a tax-exempt church by the Department of Defense. After working with an experienced chaplain, gaining enough credit hours, and earning the necessary credentials, individuals can become ordained ministers.
Step #3: Become a Military Member
After earning the degrees and credentials to offer spiritual care for military personnel, prospective chaplains need to become official members of the military. They attend boot camps for leadership and chaplaincy-specific training to become officers. Boot camps can vary from five weeks to three months depending on whether a chaplain is planning to work in the Air Force, Army, or Navy. Most programs require prospective chaplains to undergo physical conditioning as well as classroom training, and candidates must be between 21 and 42 years old.
If an enlisted military member begins their career in the military and later decides to become a chaplain, they can earn a degree in spiritual care and become ordained while serving. The process of starting off as a member of the military and becoming a chaplain after serving for a number of years can be beneficial for a few reasons.
A financial benefit is that the government may pay for the individual's master's degree and training. For instance, chaplain candidates can gain tuition assistance through the U.S. Army Reserve if they serve at least four years in an Army Reserve unit.
Another practical benefit for an individual who has served in the military as a combatant is that they understand the challenges of the field firsthand and can help address the spiritual needs of other military personnel as a chaplain. Someone who understands the devastation of losing a fellow soldier or struggling with mental health issues due to being in combat can help other military personnel walk through military-specific challenges.
Step #4: Gain Essential Skills
One of the benefits of becoming a military chaplain is that individuals gain a deep connection with their source of faith while also gaining the skill set of a noncombatant military officer. Through theology classes, military boot camp, and on-the-job experience, chaplains learn how to exhibit these skills:
Leadership
Decision-making
Active listening
Problem-solving
Verbal and written communication
Empathy
Pursue a Meaningful Career
Working as a chaplain in the military benefits military personnel in countless ways. If you're interested in pursuing a meaningful career and helping military personnel overcome spiritual, emotional, and moral challenges, the job of a military chaplain might be the right fit for you. Learn more about how AdventHealth University Online's Master of Science in Spiritual Care degree can help you prepare for a purpose-driven career.
Recommended Readings
AdventHealth University's Master of Science in Spiritual Care Gains Important Accreditation Affirmation
How to Become a Chaplain
Religion and Healthcare: The Importance of Cultural Sensitivity
Sources:
The Atlantic, "The Rise of the Chaplains"
The Balance Careers, "How to Become a Military Chaplain"
Military One Source, The Unit Chaplain: Roles and Responsibilities
Today's Military, Chaplains
U.S. Army, Army Chaplain Corps
U.S. Army, Chaplain
U.S. Army, Overview of an Army Chaplain
U.S. Bureau of Labor Statistics, Data for Occupations Not Covered in Detail
U.S. Bureau of Labor Statistics, Clergy