Spiritual Care Degree for Professionals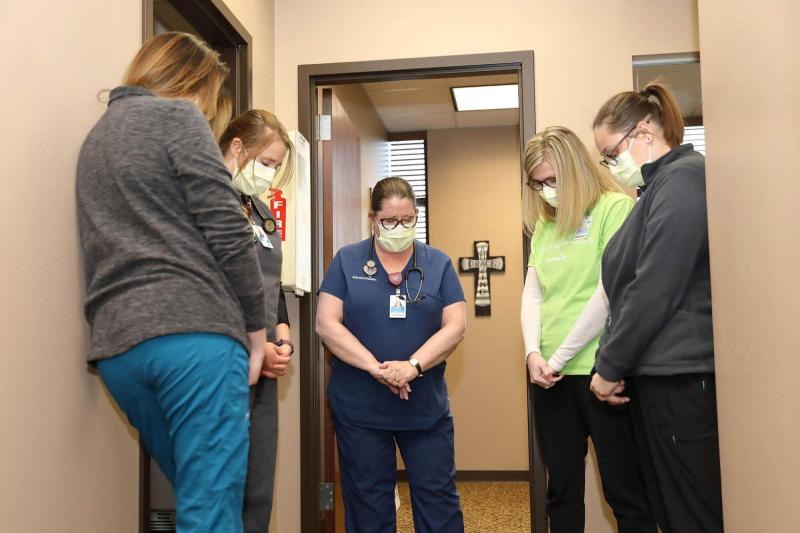 Patients at AdventHealth Medical Group Primary Care in Spring Hill, Kansas, know they can count on Teresa Peterson for an inspirational word or spiritual pick-me-up when they visit or call. In fact, they may even join Teresa in a moment of prayer.
The office, which consists of a nurse, medical assistant, front desk clerks, two physician assistants and a traveling doctor, is historically a Christian practice.
"It's a very important part of why I like working there," said Peterson, a Registered Nurse who has three adult children. "I do pray for my patients in the office – both with them and for them."
It's no surprise to many then that Teresa is one of the first students in AdventHealth University's new Master's degree in Spiritual Care program. The online program calls for 72 credit hours, and Teresa is set to graduate in 2023.
Still, the career swerve took her by surprise. The 63-year-old said she had no plans to advance her professional life. In fact, she had thought about possibly slowing down.
"I was done with my education. I never thought about going back to school," Teresa said. "I knew this was what God was leading me to though," she said, when she discovered AHU's new degree offering while logging on to AdventHealth's employee website. She also learned about the robust tuition reimbursement program that AdventHealth offers, encouraging employees to grow their careers and find their passions.
AdventHealth University is a private Christian university with degree programs in Orlando, FL, Denver, and online. Its smaller environment fosters development of highly skilled individuals who live the healing values of Christ.
Teresa is a big proponent of wholistic care and is active with medical missions at her church, making her at home with AdventHealth's mission to provide whole-person care. AdventHealth is a unified health care system with 80,000 employees, nearly 50 hospital campuses and hundreds of care sites in diverse markets throughout nine states.
"I think in healthcare, and this includes all religions, you have to care for the spiritual side of a patient. It's more than the physical body. I think people forget there is a spiritual component."
"When people come into the office, whether it is a child in trouble or a breast cancer diagnosis, they want to know that someone cares for more than just the physical body. The patients become a part of your family after 16 years."
Before "doing it all" at the Primary Care office, Teresa spent eight years as a nurse in a pediatric office and three years in long-term care. She enrolled in nursing school at Baker University at age 30, once her oldest child was in school, graduating when Teresa was 36.
She is completely satisfied with starting her career as a chaplain at age 65, immersing herself in courses like Grace and Law, the History and Role of Chaplains, and Spiritual Disciplines and Practice.
"I have found that I feel more led into the spiritual aspect of healthcare," Teresa said. "The compassion I have for my patients who are not at their best moments a lot of times is a big part of what I feel is missing in healthcare."
Spiritual Health Care Degrees For Professionals
Are you interested in providing spiritual care for patients and their families? Do you want to make a difference in someone's life? Explore AdventHealth University Online's Spiritual Care Degree. Discover how this program can provide you with the skills needed for a rewarding career as a chaplain today.