How to Become a Parish Nurse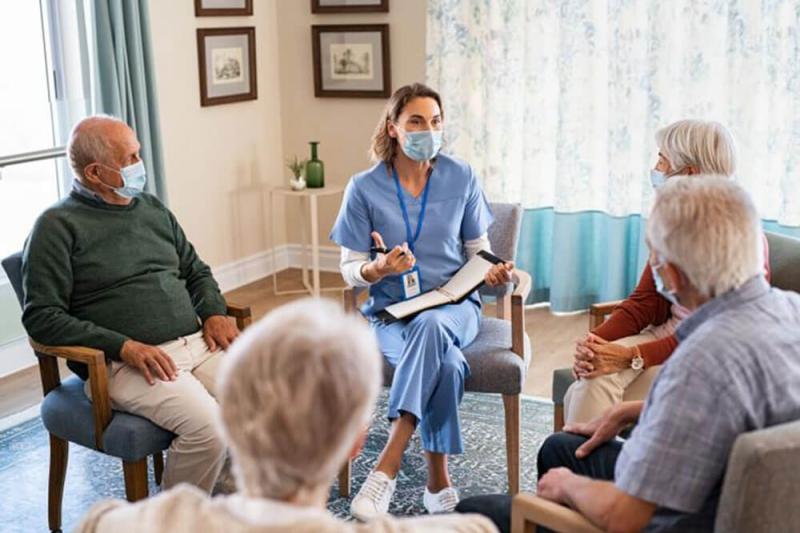 Facing eviction and with three children to care for, Miranda arrived at her church in crisis. The congregation's parish nurse listened compassionately before checking her blood pressure, only to discover it was severely high. The nurse connected Miranda to a doctor and housing assistance — and then held hands with her and shared a prayer.
Parish nurses care for people's health while also tending to their spiritual, social, and other needs. Individuals interested in nursing that integrates faith into healthcare can benefit from learning what it takes to become a parish nurse.
What Does a Parish Nurse Do?
Parish nurses, also known as faith-based nurses, focus on the spiritual, physical, and emotional needs of people within faith communities.
Different religions and faith denominations use varying titles for this nursing specialty, such as crescent nurse (nurses serving Muslims), Shabbat nurse (nurses serving Jews), congregational nurse, or church nurse. However, regardless of the specific title, this type of nursing emphasizes the importance of caring for a person's spirit.
Parish nurses may share inspiring religious scripture with patients, pray with them, or connect them to clergy members from their religion. Addressing spiritual needs has the potential to not only positively affect people's outlook but also improve their physical well-being.
In addition to nurturing peoples' spirits, parish nurses teach people about health issues and link them to social support in the community.
Parish nurses may work with individual congregations or within a network of congregations. They often serve communities facing economic hardships. Health systems sometimes form partnerships with congregations to employ parish nurses.
In this way, parish nurses have access to the health system's resources. The health system, in turn, has well-trained health professionals in community settings such as churches and community centers, who help individuals get preventive care, reduce hospital readmissions, and support general efforts to improve health.
Parish Nurse Responsibilities
The responsibilities of a parish nurse can vary. However, certain work is central to this nursing specialty. Regardless of where parish nurses work, they typically serve as:
Health Counselors
Parish nurses counsel people about health issues and concerns. They may advise individuals on how to treat diabetes or other health problems. They may also visit elderly members of a faith community in their homes to check on their nutrition, discuss follow-up appointments with doctors, or advise them on fall prevention.
Referral Sources
Several factors affect good health, including secure housing, steady employment, and emotional support. Parish nurses help connect individuals to the resources in their congregations and community. For example, parish nurses might refer people to career training, counseling centers, or subsidized housing programs.
Parish nurses form relationships within congregations and the larger community, and then they tap into the networks they've built to help people access needed assistance. That might mean referring people to food pantries or dentists who have sliding-scale payment options.
Facilitators
Parish nurses mobilize volunteers to support those in need. They often recruit members within faith communities to visit the sick or elderly in their homes or in hospitals. They also coordinate community events that offer health screenings. Additionally, parish nurses organize and often lead support groups in houses of worship and community centers.
Health Educators
Health education plays a key role in parish nursing. Parish nurses organize a myriad of educational activities in community settings that address everything from reducing risks for heart disease to understanding developmental benchmarks in young children. They may visit schools or plan education events at houses of worship and community centers that focus on disease prevention and wellness.
An important component of their approach to health education involves the discussion of how faith, lifestyle, values, and well-being intersect.
Health Advocates
Many of the people parish nurses serve lack access to health services and other needed social support. Parish nurses help people navigate the complexities of the health system to ensure they get needed care.
During planned activities or one-on-one meetings with parishioners, parish nurses encourage individuals to adopt healthy lifestyle choices.
Parish nurses may also serve on community boards advocating for programs that support health and speaking up for individuals who need social and health services.
Steps to Become a Parish Nurse
People interested in becoming a parish nurse should consider taking the following steps to gain the needed education and experience to succeed in the field.
Step One: Earn a Bachelor's Degree
Parish nurses typically need to complete at least a Bachelor of Science in Nursing (BSN) to enter the field. For existing registered nurses (RN) with an associate degree, this requirement can be achieved through an RN to BSN degree program. This degree covers coursework ranging from physiology to the behavioral sciences. It also provides students with opportunities to practice nursing care skills. The curriculum prepares graduates to conduct health assessments and critically examine factors that affect people's health. It also trains nurses in health promotion, disease prevention, and health education, among other key subjects.
Some parish nurses choose to continue their education with a Master of Science in Nursing (MSN). This can advance their career and broaden work opportunities; however, the degree is not a requirement for parish nurses.
Some parish nurses move into ministry from faith-based nursing. They can do that by earning a Master of Science in Spiritual Care. This degree prepares chaplains to provide spiritual care in healthcare settings.
Step Two: Earn a Registered Nurse License
With a BSN in hand, aspiring parish nurses can earn their professional license, another requirement for the position. First, they will need to pass the National Council Licensure Examination (NCLEX). This exam tests a nurse's knowledge of core nursing concepts and practices.
After passing the NCLEX, nurses can apply to their state for a license. This may require a criminal background check depending on specific state requirements, which can vary.
Step Three: Gain Work Experience
Aspiring parish nurses need professional nursing experience to cultivate their knowledge and skills in health assessment, health education, and problem-solving. Typically, this requires at least two years working as a registered nurse.
Aspiring parish nurses also need to get acquainted with "Scope and Standards of Faith Community Nurse." Produced by the American Nurses Association and the Health Ministries Association, this practical resource for parish nurses outlines the essential aspects and standards of the nursing specialty.
While acquiring work experience, aspiring parish nurses should focus on developing skills essential to the nursing specialty, including:
Interpersonal Skills
To build relationships and trust with community members and leaders, parish nurses need to show patience, understanding, and empathy. They also need to demonstrate reliability to successfully establish community networks and effectively facilitate community health events and activities. Parish nurses often work with individuals facing great challenges, so they need to know how to resonate calm to best support those they serve.
Emotional Resilience
Caring for people's spiritual needs takes emotional resilience and compassion. Parish nurses frequently witness people suffering. This can cause emotional overwhelm if parish nurses don't develop the necessary coping skills.
Parish nurses need to learn how to draw from their own internal strength and spiritual maturity to respond compassionately to others without becoming emotionally depleted themselves.
Communication Skills
Parish nurses need excellent communication skills to explain health problems and treatment methods, as well as answer questions about health issues. Educating the community about health issues also requires an ability to break down ideas in clear terms.
Additionally, to facilitate support groups and other health activities, parish nurses need to actively listen to and effectively communicate with fellow health professionals, volunteers, faith community leaders, and others.
Parish Nurse Salary and Job Outlook
Parish nurses earn a median annual salary of about $63,000, according to PayScale data as of December 2021. Top earners make as much as $91,000 a year. Salaries vary according to location and employer along with other factors.
According to the U.S. Bureau of Labor Statistics, positions for registered nurses will grow by 9% between 2020 and 2030. This outpaces the 8% job growth average anticipated for all occupations.
Care for People's Spiritual Needs While Promoting Health
As counselors, educators, and advocates, parish nurses help bring health and spiritual wholeness to those in faith communities.
AdventHealth University Online offers an RN to BSN degree that helps nurses cultivate the advanced knowledge needed to thrive in the field. After becoming a parish nurse, those who want to pursue a career in ministry can also consider the Online Master of Science in Spiritual Care. Learn more about how AdventHealth University Online helps prepare nurses to care for people's spiritual needs and promote health.
Recommended Readings
Nurse Communication: Tips, Tools, and Strategies
Registered Nurse Responsibilities
What Is Humanitarian Nursing?
Sources:
Advocate Healthcare, Advocate Faith Community Nurse Program
American Nurses Association, "Faith Community Nursing: Scope and Standards of Practice, 3rd Edition"
International Journal of Faith Community Nursing, "Faith Community Nursing in Community/Public Health Education: A Positive Student Nursing Experience"
PayScale, Average Parish Nurse Hourly Pay
Southern Illinois Healthcare, Faith Community Nursing
Texas Health Resources, Faith Community Nursing and Health Promotion
U.S. Bureau of Labor Statistic, Registered Nurse
Westberg Institute, Position Statement 2019: Faith Community Nursing Compared to Other Nursing Specialties
Westberg Institute, Position Statement 2019: Wholistic Health