MRI vs. Mammogram for Breast Cancer Screening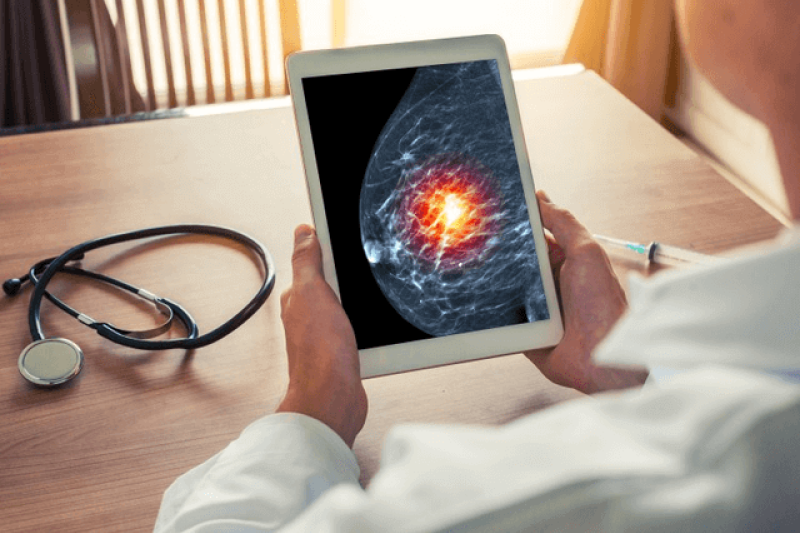 Getting diagnosed with breast cancer can change a woman's life trajectory. According to the American Cancer Society, about 1 in 8 women will develop breast cancer at some point in their lives.
The American Society of Clinical Oncology estimates that 276,480 women in the U.S. will get diagnosed with invasive breast cancer, 48,530 women will get diagnosed with noninvasive breast cancer, and 42,170 women will die as a result of breast cancer in 2020 alone. The ASCO also reports that, at this time, more than 3.8 million women in the U.S. have been diagnosed with breast cancer.
Women can take preventive measures to confront breast cancer, such as:
Talking with their primary care provider
Doing self-examinations at home
Getting regular screenings
Women who are interested in learning about the breast cancer screening process may wonder if they should get an MRI or a mammogram. The following guide explains the technology used in each type of screening as well as the benefits and drawbacks of each.
It also explains what patients can expect from a breast cancer screening and provides other information that can help patients understand breast cancer screening procedures.
What Is Breast Cancer Screening?
Breast cancer screening is the preventive process of checking a woman's breasts before she exhibits any signs of cancer. According to the Centers for Disease Control and Prevention, "Although breast cancer screening cannot prevent breast cancer, it can help find breast cancer early, when it is easier to treat."
The most common types of breast cancer are invasive ductal carcinoma and invasive lobular carcinoma. In the first, cancer cells grow outside of the breast tissue and then spread. In the second, cancer cells spread from the lobules to breast tissues. Both kinds of breast cancer can metastasize (spread or grow) to other parts of the body.
Screenings are recommended for women who have a family history of cancer or breast cancer. According to the U.S. Preventive Services Task Force:
Women between the ages of 50 and 74 should have breast cancer screenings every two years.
Before age 50, women can make the choice regarding how often they get cancer screenings.
Women older than 40 may begin considering biennial screening options.
Women with dense breasts should consider cancer screenings even before age 40.
All women, at any age, who experience symptoms should get a breast cancer screening.
The Screening Process
These resources can help individuals who are interested in learning more about MRIs vs. mammograms for breast cancer screenings:
Breast Cancer Screening: The National Cancer Institute shares information about what a breast cancer screening involves and answers common questions about the process.
What Is Breast Cancer Screening?: This Centers for Disease Control and Prevention site connects patients to the U.S. Preventive Services Task Force and explains, in detail, what a breast cancer screening is.
Breast Cancer Facts & Figures 2019-2020: A report by the American Cancer Society includes everything from breast cancer basic facts to breast cancer risk factors. It also provides statistics relating to breast cancer occurrence in 2019 and 2020.
What Are the Risk Factors for Breast Cancer?: The Centers for Disease Control and Prevention site explains what the risk factors for breast cancer are and connects to a site regarding how women can potentially minimize their risk.
MRI Twice per Year May Be Better Than Annual Mammogram for Finding Early Breast Cancers in High-Risk Women: A study by Breastcancer.org demonstrates the importance of breast cancer screenings for high-risk women.
Breast Cancer: Medication Use to Reduce Risk: An article from the U.S. Preventive Services Task Force offers recommendations regarding risk-reducing medications for women who are both at increased risk for breast cancer and at low risk for experiencing any adverse effects from medication.
Types of Breast Cancer Screening Tests
Women are interested in starting the cancer screening process for many reasons, including
Wanting to take preventive measures
Having a family history of breast cancer
Noticing some symptoms of breast cancer
Symptoms of breast cancer, according to the Centers for Disease Control and Prevention, can include, but aren't limited to:
New lump in the breast or underarm
Thickening or swelling of part of the breast
Irritation or dimpling of breast skin
Redness or flaky skin in the nipple area or the breast
Pulling in of the nipple or pain in the nipple area
Nipple discharge other than breast milk, including blood
Any change in the size or the shape of the breast
Pain in any area of the breast
Breast cancer screening can't prevent or treat breast cancer. It can, however, help doctors detect breast cancer when it may be at an early stage and may be easier to treat.
Two types of breast cancer screening tests include magnetic resonance imaging (MRI) and mammograms.
Magnetic Resonance Imaging
MRI technology uses radio waves and strong magnets. A patient will lie down in an MRI scanner that creates a large magnetic field. The machine does not use harmful X-rays, but rather uses computer-generated radio waves. The process is usually noninvasive. In some cases, a doctor or technologist will inject an intravenous (IV) contrast into a vein or tissue in order to enhance the detail of the MRI images.
The magnetic field and radio waves create an image of a patient's internal organs and tissues. MRI technologists and radiologists use advanced software to create detailed images of a patient's specific body part from any angle.
When it comes to breast cancer, doctors use MRI to:
Screen for breast cancer
Determine the stage of breast cancer
Study the growth of breast cancer
The American Cancer Society recommends that women who are at high risk for breast cancer should get a yearly MRI screening.
Mammogram
Mammograms are another type of breast cancer screening test. A mammogram is an X-ray image of the breast. Mammogram technology includes an X-ray machine with two plastic plates. Mammogram technologists, or mammographers, place a patient's breast between the plates, which compress the breast while the machine emits X-rays.
The mammographer will capture four images for a standard screening exam: a top-to-bottom and side-view of each breast. The technologist cannot share the test results at the time the test occurs because a doctor will need to review and interpret the results.
The process of compressing the breasts causes discomfort in most patients, and it can be painful for some women. However, the test is quick, and technologists do their best to make the process a relatively painless one.
When it comes to breast cancer, doctors can prescribe a screening mammogram or a diagnostic mammogram:
A screening mammogram is a preventive test.
Doctors recommend a diagnostic mammogram when a mammogram has come back with abnormal results.
Cancer Screening Resources
These resources can help patients explore MRI vs. mammogram screenings:
What to Know About MRI Scans: A Medical News Today article explains, in detail, how MRI scans work and how patients can expect an MRI test to go.
Breast MRI: The American Cancer Society explains when breast MRI tests are necessary and what patients need to know about getting them.
What Is a Mammogram?: This Centers for Disease Control and Prevention article explains what a mammogram entails and offers tips for patients getting a mammogram.
Mammography Facilities: A resource from the U.S. Food and Drug Administration can help women locate mammogram facilities near them.
National Cancer Institute: The information specialists at the National Cancer Institute can provide personalized responses to questions on a range of topics, from cancer prevention to cancer treatment.
Mammogram or MRI for Breast Cancer Detection?
Women who want to begin the breast cancer screening process may be weighing the pros and cons of an MRI vs. a mammogram. Here are just a few points for consideration:
Widespread Use
While mammograms have been the standard type of screening for many years, MRIs are becoming more common.
Radiation
One benefit of a breast MRI is that it doesn't use ionizing radiation. No X-rays are involved in the process. Another benefit is that the imaging quality is superior when it comes to identifying subtle differences in breast tissue.
Time
One benefit of a mammogram is that it takes about half the time that an MRI takes. A mammogram can be completed in a few minutes, while an MRI usually takes about 45 minutes. However, a newer MRI technique called a fast breast MRI takes about 10 minutes.
Sensitivity and Results
MRI tests can sometimes be more specific and sensitive than mammograms. However, MRI tests are more prone to false positive results than mammograms.
Cost
Mammograms are more affordable than MRIs: They can sometimes cost hundreds of dollars less. Many organizations even offer free or reduced-cost screening mammograms. Most MRIs for breast screening are not typically covered by insurance companies. Usually, a patient must undergo a mammogram first in order to justify the expense of an MRI.
Weighing the Options of Cancer Screening Tests
These resources can help patients explore research studies and documentation about the benefits and drawbacks of an MRI vs. a mammogram.
Mammography: Benefits, Risks, What You Need to Know: This article by Breastcancer.org explores the pros and cons of mammogram screenings.
Role of Magnetic Resonance Imaging in Breast Cancer Management: A study published in the South Asian Journal of Cancer finds that "MRI is superior to X-ray mammogram in high-risk breast cancer screening."
Study Reveals Sustained Benefits of 3D Mammograms for Breast Cancer Screening: A study conducted by Massachusetts General Hospital reveals the benefits of mammogram screening tests.
Study Pinpoints Women Who Benefit Less From 3-D Mammograms: This study by the University of Washington published in Medical Xpress examines which women benefit less from mammograms than other women.
Fast Breast MRI Seems to Find More Cancers in Dense Breasts Than 3D Mammogram: A research study by Breastcancer.org considers the benefits of MRIs in detecting breast cancer.
Preparing for Breast Cancer Screenings
Receiving a breast cancer diagnosis can be devastating for patients and their loved ones alike. Taking preventive steps, such as regularly getting breast cancer screenings, can help women stay informed about their health.
Moreover, having ongoing conversations with their primary care provider can help women weigh their options for screening tests.
If you are considering your breast cancer screening options, learning more about the benefits of an MRI vs. a mammogram can help you determine what option is best for you.
Additional Resources:
Peace Health, "Mammogram or MRI: Which Is Better?"