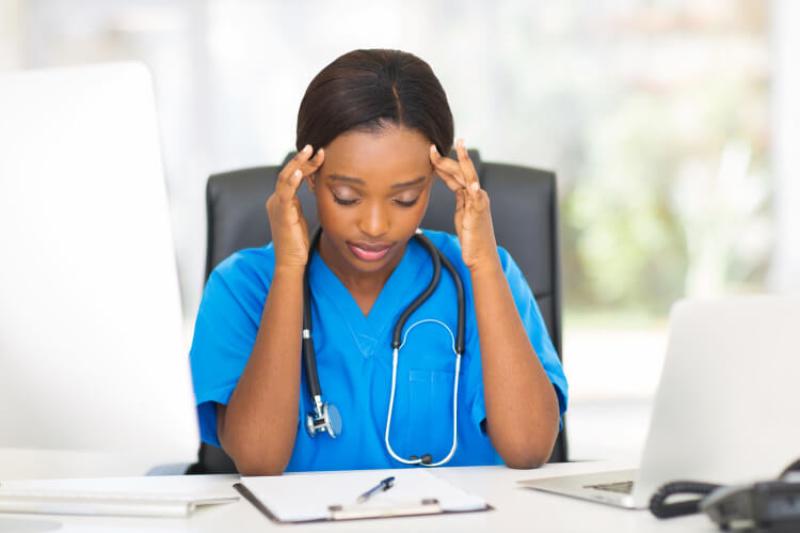 Nurses are exposed to a wide array of stressors, from unrealistic expectations from management to ethical decisions and end-of-life situations. These stressors can easily induce work-related psychological disorders, such as burnout and post-traumatic stress disorder.
Nurses can also face heavy workloads. It's not uncommon for them to face double — and sometimes triple — shifts, in addition to being on call. Late patient admissions, tragic circumstances, and providing emotional support for patients and their loved ones can take a mental and physical toll.
Over one-third of all nurses in the United States suffer from the symptoms of burnout, according to the Cureus Journal of Medical Science. Nurse burnout may be defined as a combination of cynicism, perceived inefficacy, and exhaustion stemming from the job. Nurses are at an increased risk of burnout since their role demands a high degree of mental and physical competency. The interpersonal interaction they have with patients can impact their emotional states as well.
The Administration and Leadership track in AdventHealth Online's Master of Science in Nursing can give healthcare leaders the tools they need to manage a team of nurses and prevent burnout.
How Does Nurse Burnout Happen?
Clinical psychologist Herbert Freudenberger coined the phrase "nurse burnout" in 1974, noting the condition affected nurses because of their close connections to patients. In the Journal of Organizational Behavior, researchers Christina Maslach and Susan E. Jackson looked at nurse burnout on a three-axis scale, with each axis determining how far into burnout the nurse was:
Emotional Exhaustion: International Nursing Review notes emotional exhaustion can negatively affect the care nurses offer patients, as well as their performance of other duties. Emotional exhaustion can leave nurses feeling as though they can't cope with the emotions surrounding their job.
Diminished Sense of Personal Accomplishment: Nurses are an essential part of healthcare delivery. However, the sheer number of cases they manage can seem enormous, leading to a feeling of not being able to make an impact.
Depersonalization: Medical Care defines depersonalization as an "unfeeling or impersonal response toward recipients of one's service, care, treatment, or instruction." For example, a nurse experiencing depersonalization might not be able to be as empathetic or caring toward a patient dealing with difficult treatment or emotions.
The impact of nurse burnout differs with each individual. While some nurses might become apathetic and cold toward their patients as a result of exhaustion, others might express their situations differently. While common signs and symptoms of nurse burnout exist, diagnosing it can be a lot more complicated than merely comparing one's behavior with a chart.
Nurse burnout, as noted before, stems from a feeling of emotional exhaustion and depersonalization. The Journal of Emergency Nursing highlights a study that illustrated a significant connection between interpersonal conflict and PTSD symptoms.
Methods for Addressing Nurse Burnout
Medical institutions have noticed the prevalence of nurse burnout and recognize the need to tackle it. To this end, they have implemented methodologies that allow nurses to approach their job in a way that avoids burnout. The U.S. Department of Health and Human Services notes that clinicians who were satisfied in their jobs avoided burnout and were able to provide a higher quality of care to patients. Institutions have made the following changes, among others, to mitigate nurse burnout and PTSD symptoms:
Wellness Programs: Nurses often care for others while neglecting their own health. Wellness programs ensure nurses take care of themselves as well as their patients.
Taking Stock of Mental and Emotional State: If nurses are suffering from burnout, their mental and emotional states are the first place that problems appear. Nursing department leaders should take note of their employees' emotional and mental states and assign responsibilities in ways that can help prevent burnout.
Open Communication Methods: Institutions that encourage open communication about the problems that lead to stress tend to have less burnout.
As a healthcare leader, managing nurse burnout requires understanding what to keep an eye out for. For that reason, students in the Administration and Leadership track of AdventHealth Online's Master of Science in Nursing learn to take an empathetic approach to helping nurses who face burnout. Interpersonal interaction with nurses helps leaders determine which nurses need time off to avoid the shadow of burnout. Administrative leaders can also propose solutions for reducing burnout rates, including designing programs that mimic current successful burnout-prevention systems, such as
Barnes Jewish Hospital's Compassion fatigue resiliency program for oncology nurses. The program was created to help nurses understand burnout, recognize the many effects of stress, and adopt resiliency strategies. It was so successful that it led to the development of a hospital-wide resiliency program.
Addressing Nurse Burnout in the Future
As long as there is sickness, there will be a demand for nurses—and the risk for burnout. The Atlanta-Journal Constitution mentions that as many as 1 in 4 nurses face PTSD at some point in time. Nurse burnout is a difficult problem to spot and an even more challenging one to address. Healthcare administrators need to be aware of the issues their staff face and how to effectively prevent what seems like an inevitable consequence of the profession. Through empathy and remedial action, administrators can hope to see nurses enjoy their jobs — bringing comfort and care to patients without worrying about the scourge of burnout lurking in the shadows.
Learn to Prevent Nurse Burnout with an Advanced Degree
Leaders in the nursing profession need to understand the factors that impact professionals in their departments. Insight comes through a combination of experience and study, which the Administration and Leadership track in AdventHealth Online's Master of Science in Nursing offers students. Interested in training to be a leader among nurses and prevent burnout while helping those who help others to help themselves? Contact us today and get started on your road to leadership in the nursing profession.
Sources