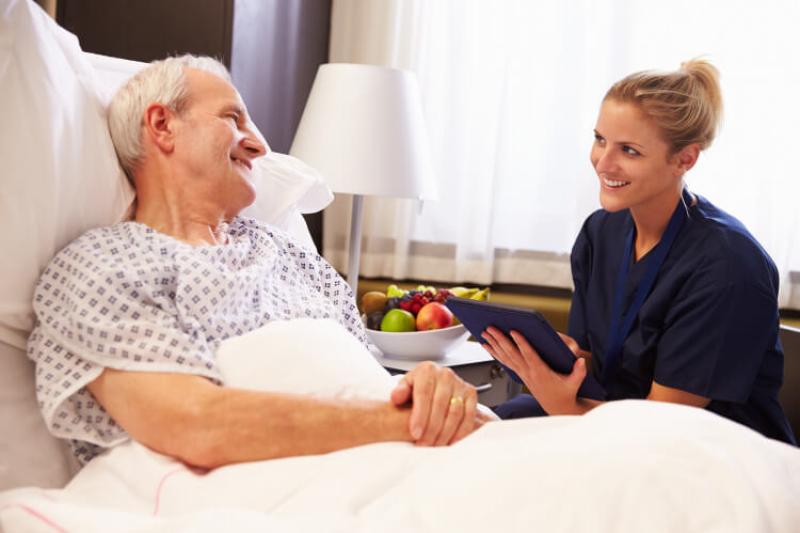 The connection between hospital patient outcomes and nurse staffing has been well documented in healthcare research. Nursing leaders, including chief nursing officers, nurse managers, and others, have been at the forefront of implementing strategies to manage nursing levels and thereby improve quality of care. Understanding the relationship between nurse staffing shortages and patient outcomes within the structure of the U.S. healthcare system is crucial to dealing with what may be one of the most significant challenges of modern healthcare.
Nurse Shortages
The nursing profession is facing a crisis. While overall healthcare employee retention is a serious issue, the problem is critical in the nursing profession. It's causing shortages throughout all healthcare settings, not just in hospitals. The scope of the problem is daunting: The U.S. Bureau of Labor Statistics (BLS) states that nearly 195,000 registered nurse positions are open each year.
Several factors are at the root of the nurse shortage and nurse staffing crisis.
Healthcare Employee Retention and High Turnover of New Nurses
Between 33.5% and 57% of new nurses leave the profession within the first three years, according to nursing expert Anne Dabrow Woods. These figures are from before the pandemic. Nurses may not receive adequate orientation at the start of their career, contributing to their decision to leave.
Shortage of Nursing School Faculty
According to the American Association of Colleges of Nursing (AACN), even though enrollment increased by 5% in 2019, U.S. nursing schools turned down more than 80,400 applicants that year due to a lack of faculty and other resources. If the education pipeline can't train enough nurses, that puts pressure on the profession.
Nurses Reaching Retirement Age
A survey by the Health Resources and Services Administration showed that the average age of registered nurses was 50 in 2018. As those nurses retire over the next 10 to 15 years, if not enough nurses can be trained to replace them, the profession will be further impacted.
Aging Population
The U.S. Census Bureau projects 78 million senior citizens will be age 65 and older by 2035, up from about 56 million in 2020. As people age, they require more healthcare and more nursing care.
Nursing Burnout
A survey in the Journal of the American Medical Association showed that 31.5% of nurses cited burnout as the reason they left nursing. Nurses who suffer from burnout list a number of causes, such as work overload, ineffective management, and stressful workplace environments. Because of the correlation between nurse staffing and patient outcomes, loss of skilled healthcare professionals may cause a decrease in the quality of care provided to patients, which could lead to medical errors.
Burnout symptoms include:
Experience-Complexity Gap
The experience-complexity gap is defined as the gap between nursing experience and the increasing complexity of patients' care needs. As very sick patients come into the healthcare system, they may need a plethora of services that all interact with one another. Just having staff on duty is no longer enough; having the right staff on duty has now become crucial.
Nursing Pay
Traditionally, hospitals have paid nurses an hourly wage and viewed them as a cost center, rather than a revenue-generating center. Under that model, keeping a high patient-to-staff ratio made sense, to limit the cost of nursing care. However, this adds to stress on the nursing staff, contributes to burnout, and impacts the quality of patient care.
Violence in the Workplace
Nurses are vulnerable to violence, verbal abuse, bullying, and other negative experiences in the workplace. Such experiences can cause emotional and physical harm. Unfortunately, violence against nurses often goes unreported.
Staffing Shortages Impact Patients and Nurses
Nurses coordinate care, monitor and administer medications and treatments, and are the first to detect issues with patient health. Nurse staffing levels directly impact patient outcomes. For instance, intensive care unit nurses who are usually assigned one critical patient may now be caring for three due to staffing shortages, increasing the chance that patients miss care or that medical errors occur. It also can increase that chance that nurses feel overwhelmed, which can lead to burnout, and the cycle of staffing shortages continues.
High Nurse-to-Patient Ratios
High nurse-to-patient ratios (NTPRs) often means that nurses have too many patients to be able to adequately monitor and provide treatment to each of them. Staffing ratios can vary by department and setting. This can lead to worse patient outcomes, increased job dissatisfaction, and burnout. It can also have other ramifications, such as a nurse losing their license due to medical errors.
Nursing Fatigue
High staffing ratios, 12-hour shifts (common in nursing), burnout, and other factors lead to nursing fatigue. Fatigue is a major cause of nursing errors as well as safety concerns for nurses themselves.
Nurse Injuries
Nurses who work in short-staffed hospitals may also be more vulnerable to injuries. According to the BLS, RNs suffered 20,150 nonfatal injuries and illnesses in 2019. Nurses may suffer sprains, strains, falls, and other injuries.
Missed Nursing Care
Missed nursing care occurs when nurses omit all or part of necessary patient care. It's often a result of staffing shortages, which also can cause communication issues between shifts or nursing teams.
Moral Injury
Nurses are vulnerable to "moral injury" as well. If they are responsible for too many patients and can't meet their responsibilities, this can take a psychological toll. During the peak of COVID-19, the shortage of medical resources meant that nurses lost many patients who otherwise would likely have survived. Additionally, the lack of personal protection equipment caused many nurses to get ill and die from the disease. Losing colleagues also takes an emotional toll on nurses.
Strategies for Alleviating the Nursing Shortage
Given the connection between nurse staffing and patient outcomes, health and hospital experts such as nurse leaders, have come up with a number of strategies to address nursing shortage issues. The goal is to alleviate the challenges nurses face, reduce burnout, and improve patient care. The following are some of the proposals that nurses and other healthcare experts have proposed.
Appropriate Staffing Levels
National Nurses United calls for hospitals to increase staffing levels, reducing high NTPRs. Adequate staffing can alleviate nurse fatigue, reduce errors, and improve patient outcomes. It can also improve working conditions and reduce nurse injuries.
Focus on the Education Pipeline
The American Association of Colleges of Nursing proposes several changes to increase the number of nurses in the profession by increasing the number of nursing faculty and nursing students. Proposals include:
Faculty development. Streamline graduate studies to develop faculty more quickly.
Establish programs to attract middle school and high school students.
Career training. Encourage hospitals and other employers to provide upskilling and other staff development programs.
Technology Training
During the pandemic, many healthcare providers adopted telemedicine to provide care. Other technological advances include electronic health records (EHR) and electronic medical records (EMR). These technologies can save nurses time and make them more efficient at their jobs. However, nurses must receive proper training on these technologies to avoid making input and other errors.
Reconsider the 12-Hour Shift
Some experts say that the 12-hour shift contributes to burnout, fatigue, and medical errors. According to a recent study published in Nursing Open, nursing staff working a 12-hour night shift reported adverse working conditions and worsening work-life balance. However, the same study showed that day nurses tended to prefer 12-hour shifts.
Autonomy in Nursing
The COVID-19 pandemic highlighted nurses' professionalism in providing quality patient care under trying conditions. This recognition is one factor in nurses' job satisfaction that keeps them in the profession. Giving nurses the autonomy to determine the best care for their patients could help improve healthcare employee retention rates.
Provide Resources to Prevent Burnout
Nurse leaders have become experts in identifying burnout and developing ways to alleviate and prevent its symptoms. They advocate self-care, plenty of rest, and other techniques to protect their mental and physical health so they can continue to work and provide patient care.
Focus on a Rewarding Workplace
While sign-on bonuses have become popular, experts say that nurses are looking for a rewarding workplace. This could help with healthcare employee retention and improve the level of nurse staffing and patient outcomes. Some tips for attracting and retaining nurses include:
Nurse residency programs. These programs tend to provide orientation and training that better prepare new nurses for the work, along with support and a sense of community.
Career development. The nursing profession benefits when nurses can learn and grow in their careers.
Recognizing top performers and veterans shows nurses that their contributions are valued.
Additional Resources for Nurses
Many nurses find joining a nursing organization to be beneficial. The following resources support the nursing profession with advocacy, policy development, education, and other services. Their goal is to improve nurses' well-being and career satisfaction, in order to improve patient outcomes.
Nursing Support and Patient Outcomes Go Hand in Hand
Nurses work hard at providing quality patient care. Those nursing professionals who stay in the field speak of the rewards of their profession. At the same time, they face the challenges of being on the front lines of a complex healthcare system. The global pandemic, now in its second year, has tested them.
Nurse leaders who support their staff with the strategies outlined here are positively impacting patient outcomes as well. Providing nurses with the professional workplace they deserve means that more patients will receive the quality care they need.