Robotics in Healthcare: Past, Present, and Future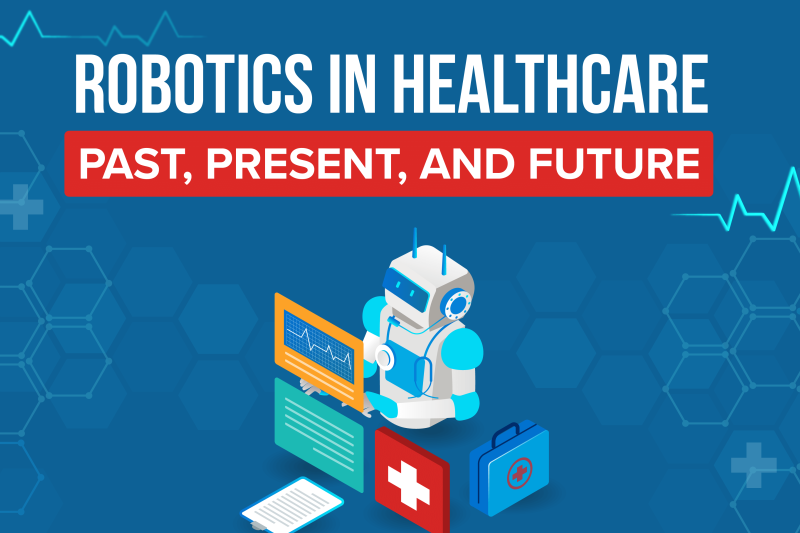 The global medical robots market is projected to reach $12.7 billion by 2025, with hospitals holding the largest market share in 2020. Since their humble beginnings in the 1980s, medical robots have come a long way in supporting medical procedures and tasks. Innovators across the globe are developing advanced capabilities for robotic systems in the healthcare sphere and paving the road toward more precise and efficient care. To learn more, check out the infographic below, created by AdventHealth University Online's Master of Science in Robotic Surgery program.
Noteworthy Robotics Advancements in Healthcare
Today, healthcare facilities have access to a range of medical robots designed to perform specific functions.
Types of Robots
Surgical-assistance robots are designed to enhance existing surgical treatments, including minimally invasive surgeries and orthopedic surgeries. These types of robots can be used to perform bariatric surgery and knee and hip replacement procedures, among other surgeries.
Modular robots, such as therapeutic exoskeleton robots and prosthetic limbs, support rehabilitation efforts for patients with issues related to stroke, paralysis, traumatic brain injury, and multiple sclerosis. These robots can be used to monitor a patient's form as they perform exercises, measure degrees of motion, and track progress.
Service robots primarily serve healthcare professionals by completing routine logistical tasks and sending a report once a task has been completed. Tasks may include preparing patient rooms, tracking supplies, filing purchase orders, restocking medical supply cabinets, and transporting bed linens to and from laundry facilities.
More and more healthcare organizations are relying on social robots to interact with patients and visitors in long-term healthcare environments. These types of robots encourage patients to follow treatment regimens, provide cognitive engagement, support patient morale, and direct visitors and patients in a healthcare facility.
Mobile robots perform various tasks throughout a hospital or clinic while traveling along a wire or predefined track. Autonomous robots, on the other hand, are controlled by physicians remotely.
Pioneering Robotic Inventions
A few robotic systems, such as the da Vinci Surgical System and TUG, have grown in popularity among hospitals and clinics across the United States and overseas. The da Vinci Surgical System features a magnified 3D high-definition vision system and highly precise instruments that can bend and rotate beyond the capabilities of the human hand.
TUG is an autonomous mobile delivery robot that can carry up to 453 kilograms of racks, carts, or bins containing medications, laboratory specimens, or other sensitive materials. The robot may be sent or requested by hospital staff using a touch-screen interface, completing over 50,000 deliveries each week in over 140 hospitals across the U.S.
Other pioneering inventions include robotic concierge SAM, medication management system PharmASSIST ROBOTx, disinfecting robot Xenex, and capsule robot Origami.
Social companion robots, such as Jibo, Pepper, Paro, Zaro, and Buddy, comfort elderly patients when they are lonely; some are equipped with touch sensors, cameras, and microphones.
Automated Functions Performed by Robots
Robots are programmed to perform a variety of critical functions, such as interacting with patients, reviewing patients' living conditions, operating in dangerous and emergency situations, conducting data mining to increase a pharmacy's efficiency, and disinfecting hospital rooms.
The Role of Robotics in Healthcare Today
Advancements in robotics have had far-reaching effects across various medical specialties, automating a growing number of procedures and delivering undeniable benefits.
Use Cases for Robots in Healthcare
In 2019, doctors in Sanya, China, used robotic assistance and a 5G connection to insert a stimulation device in the brain of a Parkinson's patient, located nearly 1,900 miles away in Beijing. The successful operation hinted at a potential competitive edge for private healthcare providers using 5G.
Another advanced form of robotics in healthcare involves the use of microbots to detect and treat disease. During the procedure, a patient swallows a tiny camera that will take images of the digestive tract and help physicians identify signs of disease or other conditions.
Minimally invasive surgery also stands to benefit from advancements in robotics. During surgery, small incisions are made to allow the insertion of robot-operated tools, minimizing the risk of complications and infections.
Surgeries and Procedures Commonly Performed With Robotic Assistance
The list of surgeries and procedures that may be performed with robotic assistance include cancer tissue removal, coronary artery bypass, cystectomy, gallbladder removal, hernia repair, hip replacement, hysterectomy, kidney removal, kidney transplant, mitral valve repair, prostatectomy, pyeloplasty, pyloroplasty, tubal ligation, and tumor removal.
Benefits of Robotics
Implementing robotics in the healthcare environment will enable organizations to free up workers' time for other important, non-automated tasks by completing monotonous, repetitive, and/or administrative tasks. Robotics in healthcare also helps eliminate time-consuming visits, shorten the duration of surgeries, create personalized treatments, and increase surgery success rates.
In surgical environments, robots provide enhanced ergonomics and comfort for surgeons, allowing for increased procedural volumes as surgeons are less fatigued. Robots also help eliminate human error in high-risk procedures.
The Promising Future of Robotics
With every newly created or updated robotic system, robotics professionals and enthusiasts can see dozens of opportunities for future growth. But this growth is not without obstacles.
Future Capabilities
Advancements in robotics could enable robots to perform lab tests without human intervention, remove plaque from arteries, take tissue biopsies, and attack cancerous tumors. In the future, robots could also deliver targeted medication, provide patient care for minor issues, and speak to patients about their symptoms.
Challenges and Roadblocks
The healthcare industry faces three unique challenges on the road to widespread adoption of robots: lack of patient trust, lack of skilled professionals, and safety risks.
One-third of dental patients don't trust a robot with routine tooth cleaning, and two-thirds of patients don't trust a robot to perform a root canal. To build patient trust in robots, healthcare practitioners will need to communicate the benefits of robots in medicine.
Though advancements in robotics, AI, and cybersecurity are creating high demand for graduates with these backgrounds, the healthcare industry is facing a shortage of skilled professionals. To meet the future needs of robotics in healthcare, the industry needs to encourage students and healthcare professionals to pursue an education in robotics and related fields.
And finally, to address the unique safety risks posed by robotics in healthcare due to the amount of data collected, stored, and analyzed by healthcare robots, healthcare facilities need dedicated roles to oversee the use and cybersecurity of robots.
Looking Forward
To realize the full potential of robotics in healthcare, medical practitioners need to stay aware of the latest developments in the field and embrace collaboration opportunities with robotics companies. Not only will advancements in medical robotics help save lives and improve efficiency, but healthcare practitioners will also enjoy their role in the fascinating process of developing highly sophisticated robotic systems.
Sources
Business Insider, "5G Is Being Used to Perform Remote Surgery From Thousands of Miles Away, and It Could Transform the Healthcare Industry"
GWS Robotics, "History of Robotics in Medicine: Medical Uses for Robots"
HIT Consultant Media, "The Growing Emergence of Robots in Healthcare: Key Opportunities & Benefits" Intel Corporation, "Robotics in Healthcare to Improve Patient Outcomes" MarketsandMarkets, "Medical Robots Market Worth $12.7 billion by 2025" Medical Futurist, "From Surgeries to Keeping Company: The Place of Robots in Healthcare"
MedlinePlus, Robotic Surgery
Verywell Health, "Robotic Surgery: Everything You Need to Know"