What Do Healthcare Administrators Do?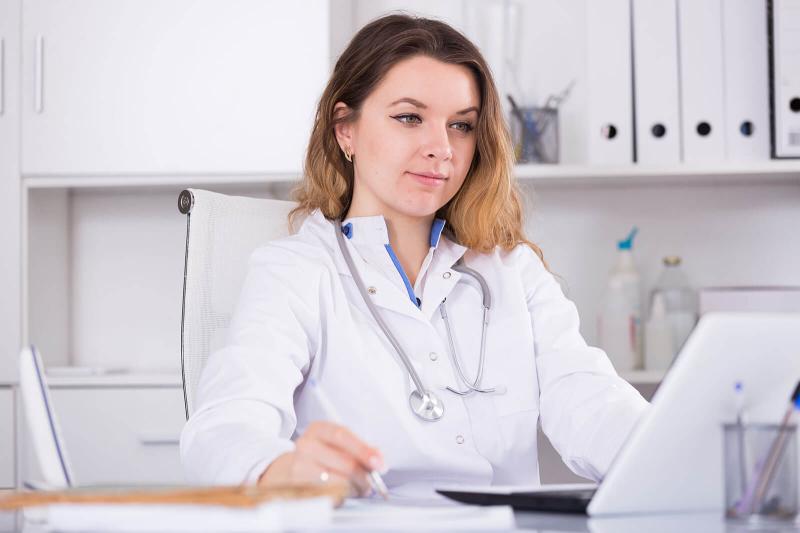 In 2017, over 36 million patients were admitted to 6,210 hospitals across the United States, according to data from the American Hospital Association. Many of those patients likely received advanced treatment and care from dedicated doctors, nurses, technologists, and other practitioners. But for all of these patients, another type of healthcare professional was also fundamental in helping ensure that they received the best treatment possible and that the hospital itself ran smoothly: the healthcare administrator.
Healthcare and hospital administrators are professionals who work to keep healthcare organizations running efficiently. They may guide patients as they complete necessary administrative forms and make payments to the organizations. They may manage and archive medical records for other doctors and practitioners to access as needed in the future. They may help guide and design a larger hospital program or initiative. And they are often fundamental in preparing for future conflicts and challenges that their healthcare organization may face down the road.
The role of a healthcare administrator is crucial to an organization, making the position a rewarding career option for those who are dedicated to helping patients and improving the delivery of healthcare. For those interested in pursuing a career as a healthcare administrator, it is important to understand the responsibilities and future prospects of this role.
What Is a Hospital Administrator?
Before embarking on a career as a hospital administrator, it is important to understand what these professionals do.
According to the Houston Chronicle, "Hospital administrators manage and supervise all areas of health-care delivery in a hospital setting. Administrators may manage a single department or oversee an entire facility; they are responsible for budgeting, health information systems, facility maintenance, maintaining the facility's records and creating work schedules for hospital staff."
These administrators may hold different titles at different healthcare organizations and facilities across the United States. For example, a medical and health services manager at one organization may have the same responsibilities as a hospital administrator at another. The U.S. Bureau of Labor Statistics (BLS) reports that "medical and health services managers plan, direct, and coordinate the business activities of healthcare providers."
Regular responsibilities of a hospital administrator
What a healthcare or hospital administrator does can vary by organization, department, and level of seniority. But they are all tasked with helping maintain a healthcare organization's activities and processes in some way. A hospital administrator may oversee the organizational and financial activities of a ward or department within a major city healthcare facility. At a smaller hospital in a rural area, a hospital administrator may be tasked with overseeing all of the administrative processes, such as managing staff and creating schedules, for that entire facility.
Examples of services they provide
Some of the services that hospital administrators can provide are:
Billing: A hospital administrator may manage how patient and insurance payments are organized and processed. They may research or implement new billing tools and software and provide guidance to other administrators on how these processes are handled.
Staff supervision: A hospital administrator may be tasked with hiring new medical facility staff, processing their paperwork, obtaining feedback, developing work schedules, and performing evaluations.
Maintenance: A hospital administrator may have to ensure that all of the items and equipment within a facility are in proper working order. This could include everything from having lightbulbs replaced to contacting a medical equipment provider to repair a machine that is not working.
Record keeping: A hospital administrator will likely help maintain and organize vital records regarding patients, practitioners, and other members and services of the facility.
Compliance: Healthcare organizations need to abide by federal and state laws, as well as codes and guidelines from other medical organizations. Hospital administrators may be responsible for making certain that staff are informed of and compliant with these laws and codes.
Setting goals and planning for challenges: A hospital administrator may work with other healthcare leaders to determine how their facility will address potential medical challenges such as a nursing shortage or a change in government funding for healthcare. They may also plan and develop strategies on how to achieve larger organizational goals, such as building a new wing or ward for the facility.
Skills needed to succeed
From confidential invoices to more sensitive medical data, hospital administrators have to access and interpret multiple types of forms and information. This requires that an administrator have strong organizational skills, as well as the ability to maintain confidentiality and professionalism when interacting with patients and partners.
Healthcare administrators may do recruitment and hiring work, serving as the person who hires, onboards, and supervises other members of a facility's staff. Strong managerial and leadership skills are needed to make sure that teams are performing to the best of their ability and that individual team members are growing professionally.
Hospital administrators often communicate with other leaders within a healthcare facility and at other organizations as well. Diplomacy and delegation skills are vital in helping forge strong relationships with these leaders and creating strategies and programs that can help patients thrive and organizations succeed.
It is likely that healthcare administrators will help and interact with patients. Empathy and strong listening skills are vital to reassure patients that their needs are being met and that the administrator and the larger healthcare staff are there to help.
Healthcare administrators are also planning for the health challenges of tomorrow in addition to the issues they are facing today. This is why healthcare administrators need to possess a growth mindset and be willing and open to adopting new skills. Doing so will enable them to anticipate and develop strategies that address future healthcare issues and needs, such as potential conflicts within the evolving health insurance landscape, or the growing number of patients with diverse afflictions.
Salary information
According to September 2019 data from PayScale, the median hospital administrator salary is $88,000. Leadership, strategic planning, and budgeting skills help hospital administrators command a higher salary.
For medical and health services managers, the median annual salary is $99,730 as of May 2018, according to the BLS. Employment for these positions is projected to grow 18% through 2028.
A Day in the Life
Hospital administrators may start their day by organizing and reviewing the work schedule for medical staff and professionals for the coming weeks. They could review new invoices or payments that need to be processed, as well as correspond with legal and regulatory authorities to make sure that the facility is abiding by correct procedures.
Throughout the day, there are many things that a healthcare administrator can do. They can work with patients to book appointments, address payment issues, and help them meet with necessary staff practitioners. An administrator may have been informed that certain devices are not functioning, and they can contact maintenance staff in the hospital to address the issue or reach out to other companies and organizations to purchase new equipment.
Later in the day, the administrator may meet with other members of the healthcare organization staff to discuss a new policy, initiative, or larger concern that the facility may be facing. For example, the administrator and staff may discuss how the U.S. government is requiring all healthcare facilities to have a certain type of medical equipment or device available, and the administrator may share ideas and begin strategizing on how to incorporate that new technology.
Near the end of their day, an administrator may call recent job applicants to inform them that they are being offered a position within the organization and begin planning and collecting necessary onboarding materials for that new hire. There are many situations that could develop throughout an administrator's day, but with the proper skills and experience in place, they will be more than able to meet and address them.
What It Takes to Become a Hospital Administrator
A bachelor's degree in a related field such as healthcare administration, healthcare sciences, health information technology, nursing, business administration, or public health is often the first step to becoming a hospital administrator. These are degrees that "focus on both management and healthcare" and "combine business-related courses with courses in medical terminology, hospital organization, and health information systems," according to the BLS.
Additionally, hospital administrators and related professionals often have substantial work experience in the field. A previous position as an administrative assistant, medical records technologist, or financial clerk are common, according to the BLS.
For those with a more specialized role, it is not uncommon for healthcare administrators to have previous experience as practitioners themselves. For example, someone who is a nursing administrator likely has extensive experience as a registered nurse, the BLS notes.
Even with a bachelor's degree and strong work experience, it can be difficult to obtain competitive hospital and healthcare administration jobs. This is where a master's degree can help candidates to stand out and to become strong and capable hospital administrators.
AdventHealth University Online's Master of Healthcare Administration in Strategy and Innovation program provides students with the practical knowledge and advanced skills needed to effectively manage a facility's healthcare challenges and develop strategic solutions to address them. Offered online, the program enables students to pursue a rewarding and advanced education in healthcare administration while maintaining their current personal and career responsibilities.
Sources
American Hospital Association, Fast Facts on U.S. Hospitals, 2019
Houston Chronicle, "Qualifications Required for Hospital Administrators"
PayScale, Average Hospital Administrator Salary
U.S. Bureau of Labor Statistics, Medical and Health Services Managers
U.S. Bureau of Labor Statistics, Medical and Health Services Managers, How to Become One
U.S. Bureau of Labor Statistics, Medical and Health Services Managers, Job Outlook
U.S. Bureau of Labor Statistics, Medical and Health Services Managers, Pay