New Technology Lab to Advance Health Care Through Virtual Reality Research and Creation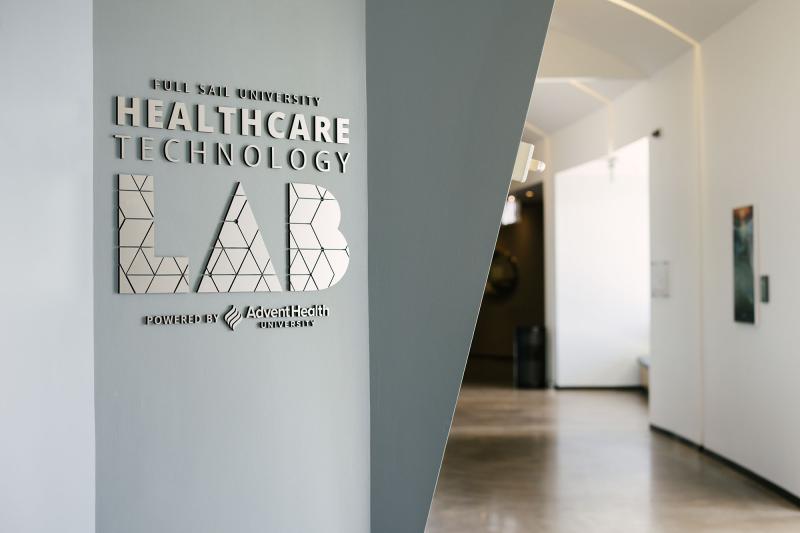 Full Sail University and AdventHealth University are pleased to announce the opening of the Full Sail University Healthcare Technology Lab powered by AdventHealth University. Full Sail University and AdventHealth University (AHU) will utilize the lab to develop and demonstrate joint health care research projects, conduct progress reviews, and expand learning opportunities for students. The facility will be housed within Full Sail's Emerging Technologies wing and is slated to add to the already existing 110+ studios and labs on Full Sail University's 210+ acre Winter Park campus.
The Full Sail University Healthcare Technology Lab Powered by AdventHealth University will primarily engage students across the emerging technologies degree programs at Full Sail University. Students from a variety of AHU's degree programs, including Occupational Therapy Assistant and Nursing, will utilize the lab to find innovative technology solutions to enhance patient safety.
In addition, the Full Sail and AHU teams will use the lab to help find innovative solutions for enhanced training of nurses and other health care team members, an important area of focus in addressing nursing retention and support.
"AdventHealth University is thrilled to collaborate with Full Sail University on this state-of-the-art classroom and lab," said Edwin I. Hernandez, Ph.D., president, and CEO of AdventHealth University. "This partnership is a wonderful example of leading-edge technology providing solutions to how we train and support health care workers, particularly as they enter the workforce. We are excited to see where this takes us, as the possibilities stretch as far as our imagination."
This facility – fully equipped with industry-standard technology, including a Stratasys F770 Large Format 3D Printer and more – is the latest extension of the partnership between Full Sail University and AdventHealth University. During the pandemic, the two universities developed the Rapid Deployable Video Simulation (RDVS) and the Automated Medicine Dispensing System (AMDS), simulated training technologies created in a multi-player immersive virtual reality trainer for AHU nursing students as the school found new ways to engage with remote learners within the nursing program.
Additionally, in 2020, Full Sail University and AHU partnered to win the Interservice/Industry Training, Simulation and Education Conference's annual Iron Dev competition. The winning prototype virtual reality solution serves as a proof of concept for a virtual command center to help health care facilities and systems, like AdventHealth visualize hospital resources and COVID-19 data points.
"At Full Sail University, we encourage our students to not only make emerging technologies solutions for fun or class credit but also to serve a purpose and make an impact within the community," said Dr. Shawn Stafford, director of Research and course director at Full Sail University. "The medical expertise provided by AdventHealth University allows our students to create research-backed solutions to real-world problems, much like they will when they enter their professional careers. We look forward to seeing the great projects that will come to life in this new lab facility and that continue to come from this partnership."
The partnership will continue to provide Full Sail University emerging technologies students and AHU students with access to health care industry experts, as new practices, procedures, and technologies are developed to support the health care industry. Students gain hands-on experience on how to bring emerging technologies and innovative mindsets into the health care industry.
About AdventHealth University:
AdventHealth University (AHU) is a leader in health care education, transforming the science and practice of whole-person care and developing professionals with uncommon compassion. The University, marking 30 years of academic excellence, seeks to develop skilled professionals who live the healing values of Christ and works in collaboration with AdventHealth to effectively extend His healing ministry. AHU has campuses in Orlando, Fla. and Denver, Colo., and offers undergraduate, graduate, and online programs, including Biomedical Sciences, Diagnostic Medical Sonography, Health Sciences, Healthcare Administration, Medical Lab Science, Nurse Anesthesia, Nuclear Medicine, Nursing (BSN), Occupational Therapy, Physical Therapy, Physician Assistant, Radiologic Technology, and Spiritual Care.
About Full Sail University:
Full Sail University is an award-winning educational leader for those pursuing careers in entertainment media and emerging technologies. Founded in 1979, Full Sail has received accolades throughout its over 40-year history, including most recently being featured on the 2021 "Top 50 Film Schools and Instructors from Around the World" list by Variety Magazine, named a 2022 "Top Undergraduate Schools to Study Game Design" by The Princeton Review, and previously recognized as the "School/College of the Year" by the Florida Association of Postsecondary Schools and Colleges. Full Sail University is a graduate and undergraduate degree-granting institution offering on-campus and online degree programs in areas related to Art and Design, Business, Film and Television, Games, Media and Communications, Music and Recording, Sports, and Technology. With over 84,982+ graduates worldwide, Full Sail alumni have worked on countless award-winning projects with individual recognition including OSCAR®, Emmy®, GRAMMY®, ADDY®, MTV Video Music Award, and Video Game Award honors.