Second-Career Sonographer Inspiring Future Healthcare Workers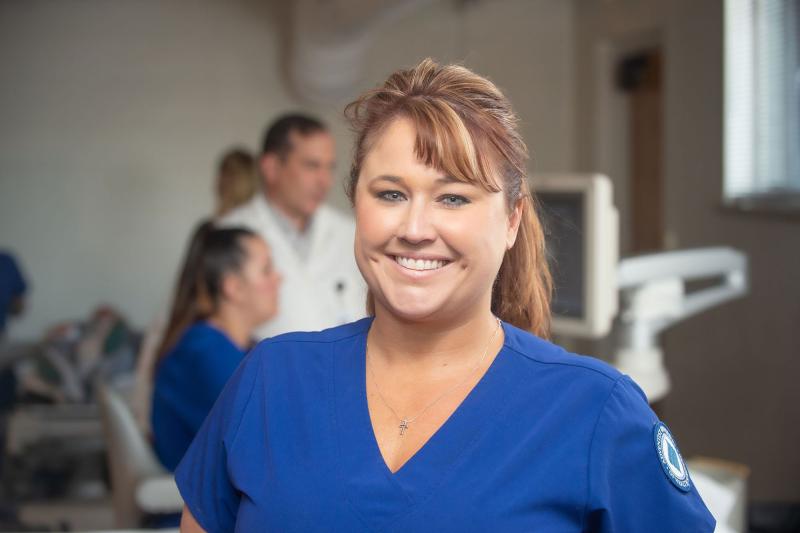 Armed with a bachelor's degree in marketing and lots of energy, Jennifer Thompson started a robust career in that field at age 21.
She was a proven marketing leader, creating successful advertising and public relations campaigns. After eight years, she was looking to change into a career where she could make a meaningful difference in people's lives.
"I was not feeling fulfilled," Thompson admitted.
She considered real estate. She had an infant at home. She wasn't exactly sure which direction to head – until she started having severe abdominal pain that required medical care.
"I had to have an ultrasound, and I was just blown away the whole time and asking lots of questions," Thompson said. "It confirmed for me that healthcare is what I wanted to do."
As she began searching for sonography (ultrasound) programs, she discovered there were not many programs in Denver and those that existed had long waiting lists. AdventHealth University Denver suddenly popped up during her search. The 110-student Christian university offers degrees in radiography, sonography and nursing.
"I went back to school at age 29," Thompson said. "AHU was a great experience. It was exactly what I needed. The faith-based component is where I was supposed to be."
Sonography school was not exactly smooth sailing for Thompson. She was one of a class of five – an important student-to-professor ratio that set this healthcare college apart from others for her.
"Ultrasound school was the hardest thing I've ever done," said Thompson, who is married with two children, ages 7 and 1. "Physics was challenging. Coming from marketing, it is a completely different side of the brain. It took my full-time commitment to try and survive."
She worked hard, earning a scholarship from Lambda Nu, the national honor society for radiologic and imaging sciences. To be a student member of Lambda Nu, students must have a 3.5 GPA, be recommended by a faculty member, and demonstrate excellence in their field.
After she graduated magna cum laude in 2018, Thompson found a job as a Diagnostic Medical Sonographer in the Radiology Department of Avista Adventist Hospital, where her education continued. Her days ranged from diagnosing cancer in a patient to discovering a baby's heartbeat.
"They constantly pushed me to be a better sonographer," Thompson said. "In an acute care setting, you have radiologists on site to oversee you because you're still learning after you graduate."
Thompson, who is a member of the Society of Diagnostic Medical Sonography, is also a registered Cascual Technologist. After several years of working in a hospital setting as well as in an outpatient obstetrics office, Thompson found her way back to AHU Denver, where she serves as the Clinical Coordinator for the Sonography program.
"I have a lot of pride in where I went to school," Thompson, 36, said.
Her role is to oversee the students' clinical training and establish relationships with clinical care settings.
"I think it's important to establish relationships between AHU Denver and the hospitals and imaging centers in the area," she said. "After clinical rotations, these are going to be students you definitely want to hire."
As part of AdventHealth University's 30th anniversary, 30 outstanding alumni are being profiled.