How to Become a Chief MRI Technologist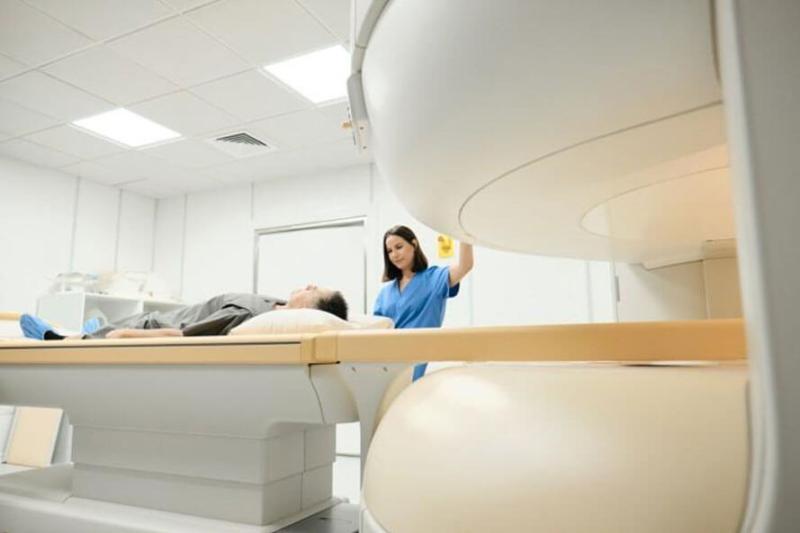 Magnetic resonance imaging (MRI) uses magnetic fields and radiofrequency and advanced scanners to provide high-quality images of structures and organs inside the human body. Healthcare professionals use MRI scans to diagnose a wide range of conditions including tumors, blocked blood vessels, and bone infections.
MRI scans can give clinicians lifesaving insight without performing surgery. They can show whether broken bones are healing properly or whether a patient's cancer has gone into remission.
MRI is a safer alternative to computed tomography (CT) scans and X-rays, which use potentially hazardous ionizing radiation to look inside the body. Because MRI is so versatile and safe, the need for professionals who can operate these intricate machines is growing steadily.
Chief MRI technologists, also called head MRI technologists, oversee all operations of an MRI lab. They perform a range of crucial tasks, including:
Evaluating MRI machine efficacy
Maintaining safety protocols
Scheduling staff work hours
Working with patients
Ordering new equipment when necessary
The right education can lead to the next step in an MRI technologist's career. Learn more about what a chief MRI technologist does, their roles and responsibilities, and how to become a chief MRI technologist for your healthcare community.
What Is a Chief MRI Technologist?
Chief MRI technologists have a range of responsibilities in overseeing the operations of MRI labs. While these professionals may work directly with patients, their main responsibilities lie in supervising and maintaining labs.
Role 1: Evaluating MRI Quality and Accuracy
Chief MRI technologists are responsible for conducting ongoing evaluations of all magnetic imaging technology and equipment for safety and effectiveness.
MRI machines experience common problems over time. Chief MRI technologists can prepare for and deal with equipment issues by:
Implementing a quality assurance and preventative maintenance plan
Monitoring MRI helium levels to ensure proper machine functioning
Restarting equipment after power outages and system shutdowns (for example, after a storm)
Shipping MRI coils out for repair when image artifacts emerge, causing graininess and unwanted lines on imagery
Interpreting and troubleshooting MRI machine temperature readouts to prevent the machines from locking up due to overheating
At the end of the day, the chief MRI technologist's job is to evaluate the quality and accuracy of MRI machines in their lab.
Role 2: Monitoring Safety Protocols
Chief MRI technologists ensure the safe, efficient practice of MRI labs. Working in collaboration with the Magnetic Resonance Safety Officer (MRSO), they must monitor factors such as magnetic field strength and radiofrequency power levels. Chief MRI technologists must make sure that staff members are trained in safety protocols, such as making sure that patients don't have prohibited belongings in the exam room or implants that can't be scanned.
Role 3: Staffing and Scheduling
Chief MRI technologists oversee, schedule, and help train the MRI technologists who work directly with patients and operate MRI machines. MRI technologists rely on chief MRI technologists in several ways:
To schedule consistent working hours so that MRI technologists can provide imaging services to patients
To maintain equipment to professional standards so that MRI technologists can perform their role safely and efficiently
To hire and support quality MRI technologists and create a respectful and equitable working environment
To conduct ongoing staff training and meetings
Role 4: Updating Technologies and Equipment
MRI equipment has a finite lifespan. Machines inevitably require repair, and new technologies emerge that make the practice of magnetic resonance imaging safer, faster, and more resource efficient.
Therefore, chief MRI technologists need to monitor industry standards and emerging technologies. They also oversee updates to their systems and machinery, resulting in better care for their patients.
How to Become a Chief MRI Technologist
The path to becoming a chief MRI technologist begins with working as a trained MRI technologist. According to the U.S. Bureau of Labor Statistics (BLS), MRI technologists typically have at least an associate degree. Some states require licensure for MRI technologists, and employers often require certification regardless of state requirements.
Those interested in managerial positions then need several years of experience on the job and should consider further certification. ARRT-certified radiologic technologists or NMTCB-certified nuclear medicine technologists, or professionals with an associate degree in radiography or nuclear medicine, should seek additional certification in MRI, such as an Advanced Imaging Certificate in Magnetic Resonance Imaging.
Chief MRI Technologist Salary
The BLS reports that the 2020 median annual wage for magnetic resonance imaging technologists was $74,690. According to PayScale, chief MRI technologists made a median annual salary of approximately $86,000 as of May 2021.
The BLS projects that MRI technologist employment will grow 9% between 2020 and 2030, about as fast as the average for all occupations in the United States.
Advance Your Career in Magnetic Resonance Imaging
If you already have an associate degree in nuclear medicine or radiography, or if you are already working as a radiologic technologist, consider taking the next step in your career by earning an advanced certificate in MRI.
AdventHealth University Online's Advanced Imaging Certificate in Magnetic Resonance Imaging (MRI) program offers students real-world training. The comprehensive curriculum includes courses such as Sectional Anatomy, Physics and Instrumentation of MRI, and MRI Imaging Procedures, as well as a clinical internship. AHU works with clinical sites and students to develop a tailored clinical schedule for a minimum of 280 clinical hours.
AdventHealth University Online's program is designed for working adults who want to go to school while working full time. Learn more about the Advanced Imaging Certificate in Magnetic Resonance Imaging and pursue a career as a chief MRI technologist today.
Sources:
American College of Radiology, ACR Manual on MR Safety
American Society for Radiologic Technologists, "Careers in Radiologic Technology"
Block Imaging, "Top Four MRI Scanner Service Problems and Solutions"
PayScale, Average Chief Magnetic Resonance Imaging (MRI) Technologist Hourly Pay
Salary.com, "Chief MRI Technologist Job Description"
U.S.Bureau of Labor Statistics, Radiologic and MRI Technologists
Zippia, "MRI Chief Technologist Overview"