How to Start a Sonography Career: Steps, Tips, and Resources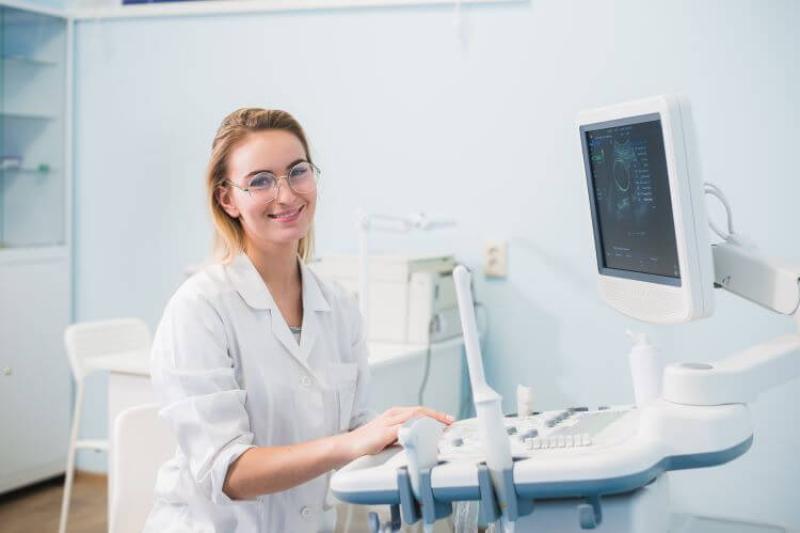 The detective work begins the moment a patient presents with a medical complaint. The diagnostician must infer from the patient's symptoms and complaints what's most likely causing the condition. An increasingly important tool for these initial diagnoses is sonography, which uses sound waves to create images of the structures inside of the patient's body.
Sonography, which is also called ultrasound, offers several benefits over alternative diagnostic approaches. It's noninvasive, so it requires no incisions. It uses sound waves rather than radiation, so it's safer than x-rays and CT scans. Sonographic equipment is portable, so it can be used in many different medical settings.
Credentialed diagnostic medical sonographers provide individualized care as members of healthcare teams, working closely with doctors, nurses, and other medical professionals.
Becoming a sonographer requires completing a formal education program, such as an associate's or  bachelor's degree program. Professional certification increases the chances of finding a job in the field. Once you've started your sonography career, you'll likely complete continuing education courses to maintain your professional credentials. Advancing as a sonographer usually requires pursuing additional degrees or certifications.
What Is a Sonographer?
Diagnostic medical sonographers operate imaging equipment that produces pictures of the body's internal organs. The equipment uses high-frequency sound waves to create an image of what's going on internally.
To capture the images, the sonographer uses a transducer, which is placed on the area of the body that's being imaged. The device sends pulses of sound waves into the body, which create echoes as they bounce back. The echoes are sent into the ultrasound machine, which transforms them into images, or sonograms, that a doctor can use to diagnose a patient.
In recent years, sonography has been used increasingly for point-of-care diagnoses of many different "disease states," as Radiology Today reports. Advances in software enable the data collected by ultrasound equipment to be analyzed in novel ways for medical screening, intervention, treatment, and monitoring. Future innovations will increase the mobility of sonographic devices, and falling prices will enable the technology to become a standard feature of medical offices and facilities of all types.
Sonographers often specialize in one or more areas:
Abdomen
Heart
Breast
Musculoskeletal
Female reproductive system (OB-GYN)
Vascular
Pediatrics
While technological advances in sonography promise to improve the delivery of healthcare to a growing range of patients, an important characteristic of the technology is its ability to enable diagnostic tests to be performed on patients while their clinicians and other caregivers are in the room right next to them. The value of the humanizing effect of the technology is tremendous, yet to realize these benefits, sonographers must be trained in the application of these new techniques.
Sonographer Responsibilities
Sonographers first collect and record the patient's medical history, and then they conduct the ultrasound scan as directed by the ordering clinician to create the sonograms that will be used to make a diagnosis. They must be able to analyze the technical information being generated by the equipment. They must also know when it's necessary to broaden the scope of the procedure based on initial findings.
Finally, sonographers report the technical findings orally and in writing to the ordering clinician and collaborate with the healthcare team to determine the next steps. Above all, sonographers provide quality care to the patient being examined. Other duties include maintaining the ultrasound equipment and ensuring that all sonographic test results are recorded accurately and included in the patient's records.
Sonography vs. Ultrasound Technology
In everyday use, the terms "sonography" and "ultrasound" are used interchangeably. However, as Healthline points out, sonography refers to "the use of an ultrasound tool for diagnostic purposes," while ultrasound refers to the tool used to generate an image based on the projection and recapture of sound waves. Ultrasound equipment generates high-frequency sound waves that are able to capture images of hearts and other internal organs, blood vessels, soft tissue, and blood flowing through veins and arteries (called doppler ultrasound).
Other forms of ultrasound include elastography, which is used to distinguish tumors from healthy tissue, and bone sonography, which determines the density of bones for diagnosing osteoporosis, for example. In addition, high-intensity focused ultrasound is used to "destroy or modify abnormal tissue in the body without opening the skin," according to Healthline.
Types of Sonography Careers
Within the broad category of sonography professionals are several specialty areas. Some are purely diagnostic, such as cardiovascular technologists who create images of the patient's heart and lungs. Others are therapeutic, such as ultrasound used to deep heat soft tissue in the body, including tendons, muscles, and ligaments, to promote healing and minimize pain, as Verywell Health explains.
Here are capsule descriptions of three potential areas of focus for sonographers.
Ultrasound Technologist
The role ultrasound technologists are most famous for is creating sonograms as part of routine pregnancy examinations that allow OB-GYN doctors to monitor the progress of the fetus's development. In most cases, the sonograms allow the baby's sex to be determined in the second trimester.
Ultrasound technologists are responsible for ensuring that ultrasound equipment is well maintained and functioning correctly. They may conduct three-dimensional (3D) and four-dimensional (4D) image scans in addition to the standard two-dimensional (2D) scans. The 3D scans combine several 2D images to create a 3D rendering, while 4D scans can show movement, such as blood flow through a blood vessel.
According to September 2019 data from the salary survey site PayScale, the average hourly salary for ultrasound technicians is $26.94, while the average annual salary ranges from $36,768 to $80,395.
Diagnostic Medical Sonographer
The primary duty of diagnostic medical sonographers is to assist physicians in collecting and analyzing sonographic images and related data to make diagnoses as accurately as possible. They gather the patient's history and integrate the pertinent information with the results of the sonographic analysis. They also ensure that the sonogram covers the required area completely and help identify abnormalities indicated by the diagnostic tests. The Commission on Accreditation of Allied Health Education Programs (CAAHEP) emphasizes the importance of sonographers working closely with physicians to record and analyze sonographic data and interacting well with patients, taking opportunities to educate them about good health.
The American Registry of Diagnostic Medical Sonography (ARDMS) issues certifications to qualified applicants in many sonographic specialties, including the following credentials:
Registered Diagnostic Medical Sonographer
Registered Musculoskeletal Sonographer
Midwife Sonography Certificate
The credentials are intended to "document personal achievement of recognized professional standards," according to the ARDMS.
According to the BLS, the average annual salary for diagnostic medical sonographers was $72,510 in 2018.
Cardiac Sonographer
The responsibilities of cardiac sonographers are to perform echocardiograms, collect the test results, and assist physicians in analyzing the results as part of the diagnostic process. Echocardiograms use ultrasound equipment to create 2D and 3D images of the chambers of the heart, providing physicians with a look inside the organ and its blood vessels. The tests measure blood flow, valve operation, and the size of chambers to assess the heart's overall condition.
As the CAAHEP explains, the duties of advanced cardiovascular sonographers include ensuring that the test collects all the data necessary to meet the diagnostic needs as indicated by the patient's history and presentation and providing the physician with a preliminary report based on the test results.
The BLS reports that the average annual salary for cardiovascular technologists and technicians was $56,850 in 2018.
How to Become a Sonographer
If you don't have any experience in sonography but would like to pursue a career in this field, it's good to know your options.
The best option is to pursue an associate degree in diagnostic medical sonography from an institution that has accreditation from the CAAHEP. The program should include a combination of classroom hours and experience in a clinical setting.
Once you've earned your associate degree, the next step is to take and pass a credentialing examination from an organization such as the ARDMS, American Registry of Radiologic Technologists, or Cardiovascular Credentialing International.
After obtaining your credentials, a wide range of job opportunities are available to you. Places of employment right out of school include hospitals, outpatient imaging centers, and physician offices. Some of these jobs may be specific to the type of credentials you've obtained. For example, if you hold credentials in cardiovascular sonography, then working at a vascular imaging center or in a cardiologist's office would be an ideal fit.
If you're already working as a licensed diagnostic medical sonographer, you might be wondering what path you can take to advance your career.
If you have an associate degree, the next step to take if you're looking to move up the career ladder is to pursue a bachelor's degree in diagnostic medical sonography.
AdventHealth University Online's Bachelor of Science in Diagnostic Medical Sonography is designed for certified and credentialed sonographers who are looking to gain a competitive edge. The program is open to students with an associate degree, students who are pursuing an associate degree concurrently, and licensed sonographers without an associate degree who would complete bridge courses.
Recommended Readings
The Fastest Growing Healthcare Careers
The Most Common Medical Radiation Myths Dispelled
7 Patient Care Tips for Imaging Technologists
Sources
American Registry for Diagnostic Medical Sonography, Careers in Sonography
Healthline, Sonogram vs. Ultrasound
National Institute of Biomedical Imaging and Bioengineering, "Ultrasound"
PayScale, Average Ultrasound Technician Hourly Pay
Radiology Today, "Imaging Adaptability: A Look at the Latest Advancements in Ultrasound"
U.S. Bureau of Labor Statistics, Diagnostic Medical Sonographers and Cardiovascular Technologists and Technicians, Including Vascular Technologists
Verywell Family, "How an Ultrasound Technician Does Their Job"
Verywell Health, "Therapeutic Ultrasound in Physical Therapy"