Nurses Never Stop Learning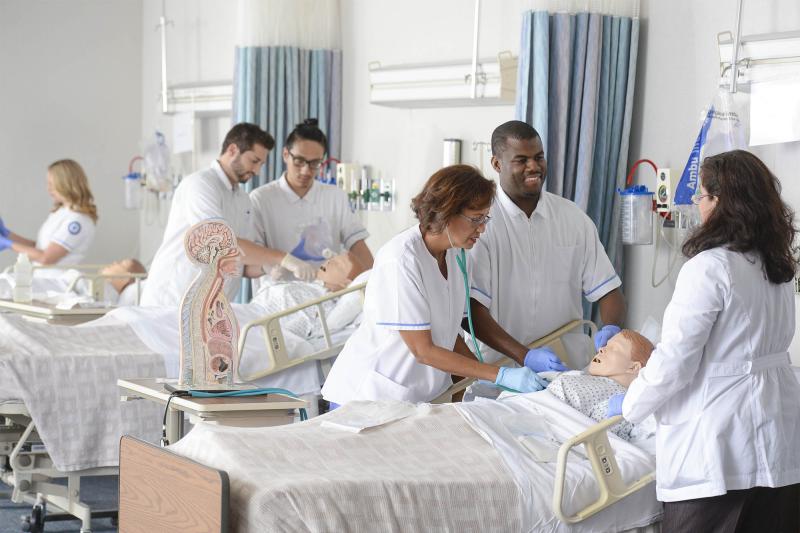 Nurses must adapt to new technology and policies faster than ever. [1] Consequently, most practicing nurses now take continuing education courses to stay up to date on the important developments.
Nursing education dates back to the late 1800s. However, many years passed before gender and class barriers dissolved, allowing nurses to pursue academic training. Before this, nurses learned on the job and students served as a source of free labor. In the early 1900s, demand for nurse education heightened, but didn't gain traction until the 1950s. By then, it was too late for universities to fill the bachelor's degree-level nursing shortage.
Nursing Then and Now
Universal recognition of nursing as a degreed profession didn't occur until the 1980s. Later, medical researchers called for collaboration between universities and health organizations in working together to encourage nurses to earn bachelor's degrees. Finally, healthcare stakeholders collectively agreed that higher learning for nurses was in the public's best interest, and the barriers that prevented candidates from pursuing higher learning dissipated due to years of empirical data that opponents could no longer refute.
Many things have changed since the mid-1980s. Bridge programs, that allow nurses to pursue more advanced education building on existing training, did not exist. [2] Then, society viewed nursing as menial work designated almost exclusively for women and most jobs were in hospitals and schools. Despite these cultural stereotypes, the public over time came to regard nursing a noble profession.
Today, nursing education allows some practitioners to fill shortages left by a dwindling physician pool. Despite this relatively newfound responsibility, caring remains the foundation of nursing philosophy. Contemporary nursing professionals make decisions that were exclusively in the realm doctors only a half century ago. [3] The entire scope of practice for professionals like hospital nurses and midwives has changed drastically. This added responsibility in making complex decisions dictates that nurses obtain high-level education to perform duties to their maximum ability.
Current Trends in Nursing Education
As more nursing hopefuls respond to healthcare demand, enrollment in bachelor's degree programs rise. [4] In fact, enrollment in higher education programs is at an all-time high for all disciplines, as well as for entry-level and experienced nurses. This trend makes sense, as most healthcare employers now favor nursing candidates with bachelor's degrees.
Accelerated programs offer working nurses and career changers an opportunity to expand their skillsets. This development bodes well for United States consumers, who need more health professionals to advocate for patient needs and help navigate the new caregiving environment.
The Future of Nursing
The Internet has changed the nurse-patient relationship. [2] Informed patients now seek information independently, presenting an opportunity for nurses to educate a wider consumer base.
Care providers now connect with consumers using social media and other digital tools. With this ability comes the need to monitor and manage information quality. While information empowers, consumers still need professional health guidance.
In the United States, nurses occupy the largest healthcare job segment in the nation, holding more than 3 million positions. [6] Nurses contribute their skills in delivering treatments in a new environment that emphasizes coordinated care, teamwork, and service value. While transitioning into a new operational archetype, nurses must work together to continue delivering improved patient outcomes.
Advocates continue to rally for more autonomy for nurse practitioners (NPs). During this transition, universities respond to the changes with curriculum adjustments that incorporate the emerging healthcare landscape. Now more than ever, nurses need support from actively practicing advocates in serving as a connection between frontline workers and legislators, as labor analysts struggle to assess supply and demand among the many emerging nursing disciplines.
Advancing From an RN to BSN Degree
Nursing education plays a crucial role in healthcare safety and quality. [7] Registered Nurse (RN) to Bachelor of Science in Nursing (BSN) programs allow associate degree holders to build on their existing training. Baccalaureate training encompasses the lessons taught in associate programs, in addition to more comprehensive training in topics such as:
Community health
Humanities
Nursing administration
Nursing research
Physiology
Public health
Sociology
The additional training prepares baccalaureate degree nursing candidates for wider practice scopes and more in-depth understanding of the cultural, political, and socioeconomic factors that affect service delivery. Over the last decade, legislators and nursing advocates have recognized that higher nursing education improves community wellness.
Healthcare organizations increasingly seek baccalaureate prepared nurses as a critical component toward gaining highly coveted Magnet status. [5] To date, the American Nurses Credentialing Center's Commission on Magnet Recognition (COM) has awarded this distinction to only 8 percent of United States hospitals for superior service and care delivery.
The journey to Magnet excellence is a long-term engagement that promotes best practices, professional excellence and service quality. Duly, medical schools seek clinical partnerships with Magnet accredited facilities in growing numbers in an effort to train America's healthcare facilities achieve this prodigious goal.
Some RN to BSN degree candidates prefer to attend a two-year college and start their careers as soon as possible, while others have decided to change professions. While course lengths vary, most programs require candidates to possess an associate degree RN accreditation before entrance.
Nurses alone cannot resolve all community health issues. [7] However, they do serve as a critical communication and service link between many disciplines that collaborate to improve patient outcomes.
Learn More
Adventist University started building its solid foundation for nursing education in 1908 when it began training nurses so healthcare could be provided for more people. Today they offer cutting edge education and experienced faculty dedicated to helping individuals interested in pursuing a bachelor of science in nursing degree.
Sources:
[1] https://www.nurse.com/blog/2012/11/12/history-lesson-nursing-education-has-evolved-over-the-decades-2/
[2] http://www.nursetogether.com/evolving-standards-care-nursing-then-and-now
[3] https://www.theguardian.com/healthcare-network/2015/mar/17/how-has-nursing-changed-and-what-does-the-future-hold
[4] http://www.aacn.nche.edu/news/articles/2015/enrollment#Findings
[5] https://www.americannursetoday.com/going-for-the-gold-the-value-of-attaining-magnet-recognition/
[6] http://www.nationalacademies.org/hmd/Reports/2015/Assessing-Progress-on-the-IOM-Report-The-Future-of-Nursing.aspx
[7] www.aacn.nche.edu/media-relations/EdImpact.pdf