Career Spotlight: How to Become a Public Health Nurse Practitioner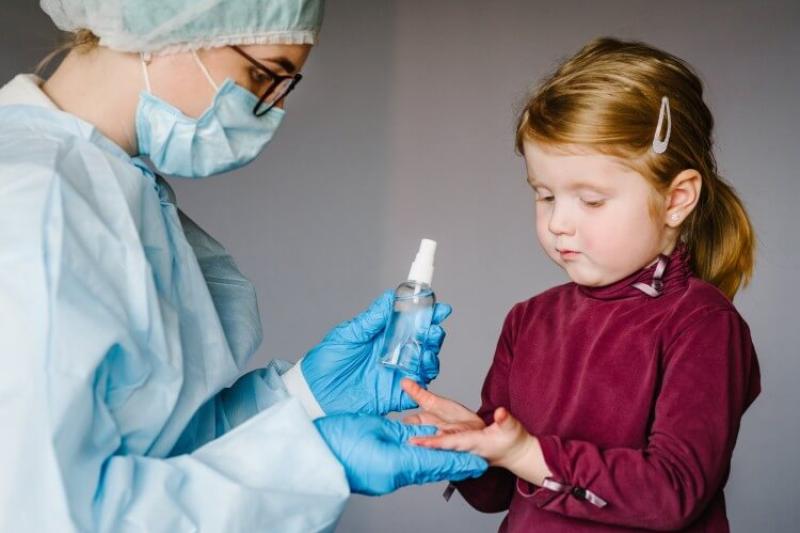 It's easy to appreciate the importance of treating illnesses and helping the injured and sick recover. In times of public health crises, when healthcare providers find themselves overburdened and undersupplied, the urgent need to focus on disease prevention and health promotion is clearer still.
The United States spends more than 80% of its healthcare dollars on chronic conditions. However, according to the Centers for Disease Control and Prevention (CDC), most of these conditions are preventable with healthy diets, physical activity, and regular health screenings. While seeking ways to effectively treat chronic health problems, the public health approach also considers how public health professionals can shape healthcare to keep people from getting sick in the first place.
Public Health Nurse Practice
Public health nurse practitioners work to ensure the healthy stay well and the sick recover. The American Public Health Association defines public health nursing as "the practice of promoting and protecting the health of populations using knowledge from nursing, social, and public health sciences."
The interdisciplinary nature of the field requires public health nurses to have medical skills and experience as well as backgrounds in sociology, public policy, environmental science, and other disciplines. Such knowledge allows public health nurses to engage in advocacy, planning, and policy development that tackle social justice issues and build greater access to quality healthcare for everyone, but especially to those most marginalized in society.
In the face of shrinking budgets allotted to public health issues, public health nurse practitioners must innovate ways to respond to pressing health challenges such as the opioid crisis, disease outbreaks like COVID-19, and the impacts of human trafficking that call for trauma-informed care.
Role and Responsibilities
What is a public health nurse, and who is well suited for the job? By understanding the nature of public health nursing, as well as by examining the challenges and opportunities of the work, aspiring public health nurse practitioners can better determine if they want to pursue work in the field.
Public health nursing is characterized by key practices, according to the American Public Health Association. Those practices include:
Focusing on an entire population's health needs (which involves addressing health inequities and considering needs specific to subsets of the larger population)
Using a comprehensive and systematic approach to assessing a population's health
Addressing how social and economic circumstances influence a community's health
Focusing on primary preventative health measures such as vaccinations, interventions that address risky behaviors, and efforts to ban substances known to cause adverse health effects
Applying interventions across the board so families, individuals, and communities all benefit
Public health nurse practitioners work in various settings, and their duties and responsibilities vary as well. While registered nurses may practice in a single location, public health nurse practitioners can easily find that their jobs take them from local hospitals to community centers and government agencies. Job descriptions often depend on the specific health topic a nurse practitioner is involved in.
Typically, these nurses develop programs that create awareness and increase knowledge about physical and mental health issues. These programs emphasize disease prevention and health promotion. Public health nursing involves outreach and collaboration with schools, clinicians, and community organizations, which demands a knowledge base that encompasses clinical medicine, public health issues, and social sciences such as sociology and psychology.
The outreach and coordination conducted by public health nurse practitioners allow them to gather important information about individuals, families, or groups of people and determine who has health risk factors that need attention. Additionally, public health nurse practitioners monitor health and disease trends within a community. The data they gather keeps them informed of the most pressing health issues and guides which programs they develop and how.
Some activities of public health nurse practitioners include:
Delivering presentations and providing educational materials
Teaching patients about their health and administering care
Connecting patients with appropriate support services and giving referrals
Visiting patients in their communities or homes and conducting assessments
Keeping detailed records of their interactions
To succeed in public health nursing, practitioners must overcome many obstacles. Helping individuals, families, and communities facing serious health challenges places heavy emotional demands on public health practitioners. In addition, many public health nurse practitioner roles entail great physical demands, including long work hours and significant travel.
Despite such challenges, many public health nurse practitioners express great satisfaction in knowing how much they have helped people in need. Undoubtedly, public health nurse practitioners must have endurance, patience, and ingenuity, but their hard work allows them to play a critical role in shaping public health and improving people's lives.
Education Requirements
The demanding work of public health nursing requires varied skills sets and expert knowledge across several disciplines. Those interested in learning how to become a public health nurse practitioner should consider the best educational path to obtaining those needed skills and expertise.
Step One: Earn a Bachelor of Science in Nursing
All public health nurse practitioners must be registered nurses (RNs). A first step to becoming an RN is completing a Bachelor of Science in Nursing (BSN) program that is accredited by the Accreditation Commission for Education in Nursing (ACEN) or the Commission on Collegiate Nursing Education (CCNE).
BSN degrees offer critical knowledge in anatomy, physiology, and biology. Their curriculums cover topics needed for clinical work such as health assessment and emergency care. Additionally, students learn about public health issues and cultivate the important critical-thinking and communication skills that public health nurse practitioners use on a daily basis. RNs who hold an Associate of Science in Nursing can pursue RN-to-BSN programs to obtain the needed degree.
Step Two: Get a Nursing License
With a BSN in hand, aspiring nurses are eligible to become RNs by obtaining state-issued licenses. Licenses are issued to nursing graduates who successfully pass the National Council Licensure Examination for Registered Nurses (NCLEX-RN). Different states may have varying additional requirements beyond the exam such as submitting to a background check. RNs may also seek specialty licenses in areas such as pediatrics or mental health, among many others.
Step Three: Earn a Master of Science in Nursing
A Master of Science in Nursing (MSN) is the minimum requirement to become a nurse practitioner. Some MSN programs offer different concentrations such as administration and leadership or family nurse practitioner.
MSN degrees deepen nurses' knowledge of topics covered in BSN programs and allow students to focus on population health topics such as primary healthcare for women and children. They also include practicums that give students real-world hands-on experience under direct supervision.
Core Competencies in Public Health Nursing
Education and experience help public health nurses develop core competencies in the primary areas of public health nursing. As public health nurses take on leadership roles, the competencies required to complete their work in each primary area shift. Understanding the competencies needed in different areas and at varying levels of an organization is key to advancing a career in public health nursing.
The Quad Council Coalition of Public Health Nursing (QCC) — a collection of organizations concerned with public health nursing education, practice, leadership, and research — defines three tiers of competencies for public health nurses. These tiers align with the roles nurses hold in an organization and the extent to which they serve in supervisory positions. These tiers help clarify what competencies public health nurses need according to the roles they are in.
Tier One Competencies
These apply to generalist public health nurses not in supervisory roles who work in community, state, or local public health organizations; conduct clinical activities and home visits; and deliver population-based services, such as prevention and intervention-driven care. They include:
Working directly with high risk populations
Carrying out health promotion programs
Gathering basic data and analyzing it
Conducting field work
Planning programs
Conducting outreach
Tier Two Competencies
These apply to public health nurses in management positions who implement community and population-based programs and are responsible for their oversight, as well as for the oversight of clinical services and home visits. They include:
Executing and supervising personal, family, and population-based health programs
Budgeting
Building and managing community relationships
Developing work plans and timelines
Making recommendations about policies
Tier Three Competencies
These apply to public health nurses in leadership positions and executive roles, functioning in the most senior level positions of healthcare organizations. They include:
Managing organizational operations
Administering programs
Supervising programs
Setting strategic organizational goals
Overarching Core Functions
The QCC also identifies core functions of public health. These essential competencies should help "guide and revolutionize practice, education, research, and policy at all levels."
Core functions of public health include:
Assessment: Investigating health problems and determining the factors, medical and nonmedical, impacting those health problems
Policy development: Advocating for needed resources, prioritizing and addressing health issues, and creating policies that address pressing health issues
Assurance: Managing resources; executing programs that address health problems; assessing the effectiveness of interventions; and educating communities about health issues, their potential impact, and available resources to handle them
Certification Requirements
Certifications can help nurses demonstrate their knowledge of best practices and evidence-based care in nursing. This allows nurses to earn recognition for their abilities, show their devotion to nursing, and, in turn, advance their careers.
Currently, there is no certification specific to public health nursing at the generalist level, according to the American Association of Colleges of Nursing. However, nurses who have earned a BSN and have at least five years of public health experience can obtain a Certification in Public Health (CPH) from the National Board of Public Health Examiners by successfully passing the CPH exam. Public health nurse practitioners who obtain a CPH show a commitment to growth and education. Preparation for the CPH exam can also help nurses learn up-to-date information on emerging public health issues.
The public health nurse certifications available at more advanced levels include:
Public/Community Health Clinical Nurse Specialist Certification (PHCNS-BC): This certification, issued by the American Nurses Credentialing Center, requires nurses to hold an MSN and pass a designated exam. To maintain the certification, nurses must track their professional development hours and recertify every five years.
Advanced Public Health Nursing Certification (APHNC): This certification, also issued by the ANCC, is available for renewal only. Renewal requires the completion of 75 hours of continuing education along with other demonstrations of development in the area of public health.
Nurses who have earned a Master of Science in Nursing (MSN) from a school offering nurse practitioner concentrations qualify for certification by the ANCC or the American Academy of Nurse Practitioners (AANP) in various NP specialties, including family health and psychiatric/mental health.
Salary and Career Outlook
As advanced practice nurses, public health nurse practitioners have more earning potential than many other positions in nursing. The U.S. Bureau of Labor Statistics (BLS) reports that nurse practitioners earn an annual median salary of $107,030. However, the BLS does not provide data specific to public health nurse practitioners.
According to ZipRecruiter, a public health nurse practitioner salary may be somewhat lower than the overall nurse practitioner median salary. Their data as of April 2020 found median earnings at $89,201 a year. PayScale data specific to public health nurses indicates that salaries increase steadily with years of experience. The location of a position may also factor into a salary. PayScale data as of February 2020 suggests positions in Los Angeles and Sacramento, California, can pay significantly more than those in Indianapolis, Indiana, and Atlanta, Georgia.
The nurse practitioner field, which includes those specializing in public health, has grown considerably in recent years. The American Association of Nurse Practitioners reports that between 2007 and 2019 the number of nurse practitioners grew from 120,000 to 270,000. The need for these advanced practice nurses will continue to grow according to the BLS, which projects an impressive 26% increase in the job market by 2028.
The healthcare industry's focus on preventative care can partly account for this growing need for public health nurse practitioners. An overall increase in the need for healthcare services due to an aging population also contributes to the demand, according to the BLS.
How Public Health Nurse Practitioners Prepare Communities for Health Crises
In the face of the COVID-19 pandemic, the eyes of the nation have begun to focus more concertedly on the need for robust responses to public health crises. While many celebrate the selfless contributions of so many healthcare workers and seek out information from expert epidemiologists and virologists, they also wonder how the country will prepare itself in the future.
Key to averting calamities and saving lives in times of public health emergencies is emergency preparedness. According to the CDC, public health emergency preparedness involves preparing for, responding to, and recovering from a crisis.
What is the public health nurse role in emergency preparedness? During health emergencies, public health nurse practitioners serve as intermediaries who help government authorities formulate and implement plans to respond to, mitigate, and prevent communicable diseases and other threats to the health and well-being of their communities.
Since public health nursing often involves planning against and responding to disease outbreaks, nurses in the field are experts at collaborating with all types of professionals both within and outside of healthcare. Successful responses to health crises require this kind of layered coordination.
Public health nurse practitioners' understanding of the processes that can cause disease and epidemiology, paired with their community assessment skills, can also prove essential.
The following public health nurse practitioner competencies play a vital part in managing health crises:
Disease surveillance
Accelerated needs assessments
Educating the public
Research
Collaboration
Outreach and referral
Treatment
Public health nurse practitioners have essential training and experience in each of these areas. This allows them to actively participate in important precrisis planning, deliver healthcare services during a crisis, and help evaluate a crisis after it has passed. Some of the preventative measures public health nurse practitioners conduct include immunizations, testing, and vulnerability assessments. Additionally, while communities recover from health crises, public health nurse practitioners can advocate for community members and help push for policies that best protect public health going forward.
Preparing for Nurse Leadership Roles in Public Health
The skills and knowledge required of a public health nurse practitioner are extensive and varied. However, with advanced training and dedication in the field, aspiring public health nurse practitioners can play leading roles in everything from responding to public health crises to developing intervention programs that address avoidable chronic illnesses.
Advanced degrees in nursing can prepare public health nurse practitioners by educating them in core areas relevant to their work. Programs engage students in a comprehensive study of population health management, primary care, research, and advanced health assessment. They also provide students with the opportunity for practical application of classroom material under the guidance of skilled experts.
Inspired to tackle health issues and ensure even the most vulnerable communities have access to quality healthcare and services? Explore how AdventHealth University Online's Master of Science in Nursing degree prepares nursing leaders to improve the health of communities and respond to the nation's greatest health challenges.
Sources:
American Association of Colleges of Nursing, Certification for Public Health Nursing
American Association of Nurse Practitioners, Nurse Practitioner (NP) Certification: Recognize Your Education, Skills and Professional Expertise
American Association of Nurse Practitioners, "Nurse Practitioner Role Grows to More Than 270,000"
American Nurses Association, "American Nurses Association Takes Action on Critical Public Health Issues"
American Nurses Association, Public Health Nursing
American Nurses Credentialing Center, "Advanced Public Health Nursing Certification (PHNA-BC)"
American Nurses Credentialing Center, Our Certifications
American Nurses Credentialing Center, Public/Community Health Clinical Nurse Specialist Certification (PHCNS-BC)
American Public Health Association, "The Definition and Practice of Public Health Nursing"
American Public Health Association, Public Health Nursing
AMN Healthcare Education Services, "Are You Ready? Understanding Disaster Preparedness"
California Board of Registered Nursing, Advanced Practice and Public Health Nurse Certification
Centers for Disease Control and Prevention, National Center for Chronic Disease Prevention and Health Promotion (NCCDPHP)
Centers for Disease Control and Prevention, NCHHSTP Social Determinants of Health
Centers for Disease Control and Prevention, "Public Health Emergency Response Guide for State, Local, and Tribal Public Health Directors — Version 2.0"
Daily Nurse, "4 Reasons Public Health Nursing Is a Great Career Choice"
Daily Nurse, Public and Community Health Nurse
National Board of Public Health Examiners, Credentialing Public Health Leaders
National Board of Public Health Examiners, Why Get Certified?
PayScale, Average Public Health Nurse Hourly Pay
PayScale, Salary for Certification: Public Health Nurse (PHN)
STAT, "Prevention Efforts Can Ward Off Many Chronic and Expensive Conditions. So Why Aren't We Investing in Them?"
Trust for America's Health, "A Funding Crisis for Public Health and Safety: State-by-State Public Health Funding and Key Health Facts, 2017"
U.S. Bureau of Labor Statistics Occupational Outlook Handbook, Nurse Anesthetists, Nurse Midwives, and Nurse Practitioners
U.S. Bureau of Labor Statistics Occupational Outlook Handbook, Registered Nurses