Clinic vs. Hospital Settings: Differences in Nurse Roles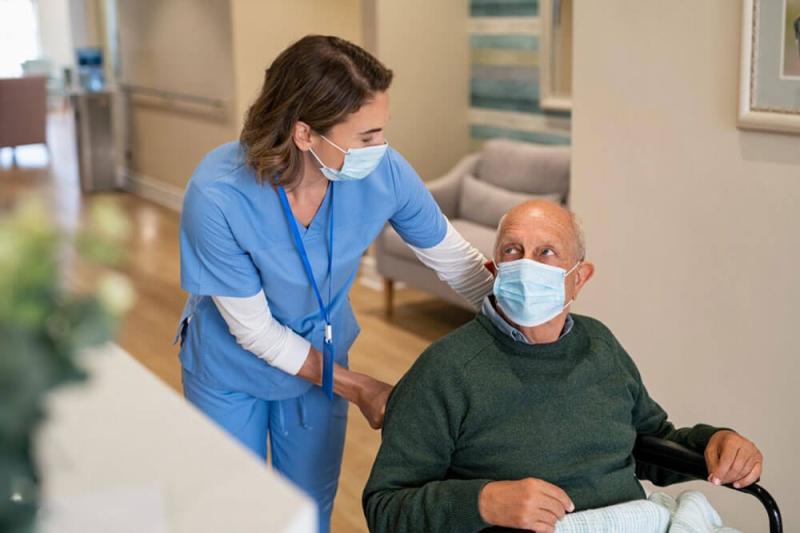 Nurses may choose to work in either a clinic or a hospital setting, both of which provide opportunities to deliver valuable care and make a difference in people's lives.
While hospitals account for 61% of registered nurse (RN) jobs, ambulatory services — including home healthcare, doctors' offices, and clinics — account for just 18%, according to 2020 data from the U.S. Bureau of Labor Statistics (BLS). Ambulatory health clinics are seeing a surge in available jobs, however, as people seek more affordable care.
Nurses looking to shift into a more advanced nursing role may be exploring the differences between positions in clinic vs. hospital settings so that they can make the best decisions for their careers. A Bachelor of Science in Nursing (BSN) program can help nurses develop the knowledge and skills they need to move their careers forward in a growing and demanding field.
Clinic-Based Nursing
Clinic-based nursing is generally focused on providing outpatient preventive care across specializations, helping patients who may be recovering from surgery or receiving treatment for chronic health issues.
Responsibilities
Clinic nurses often specialize in certain areas, such as pediatrics, women's health, rehabilitation, or psychiatric health. Their responsibilities commonly include the following:
Gathering patient information, such as medical history, health concerns, and symptoms
Collaborating with doctors and other healthcare professionals to assess the patient's condition and deliver treatment
Administering medication and communicating treatment plans
Monitoring and maintaining medical equipment
Environment
Clinics are often smaller than hospital settings, providing treatment and care for patients with specialized needs and nonemergency health issues. Clinic nurses also have a higher patient volume and turnover than hospital nurses. Still, since clinics often have repeat patients, they have an opportunity to build long-term working relationships with patients and their families.
Hours
Clinic nurses typically maintain traditional work schedules (9 a.m. to 5 p.m., Monday to Friday). This allows them to set predictable routines and more easily maintain a work-life balance as compared to hospital-based nurses. Some clinics, however, also operate during evenings and weekends, in which case nurses may be asked to cover those shifts.
Salary
Salaries for clinic nurses may vary based on their specific facility, role, seniority, and specialization. According to the BLS, the median annual salary for nurses in ambulatory healthcare services was $72,340 in 2020.
Skills
Nurses in clinical settings need to develop key skills for success, such as:
Communication skills. Communication skills can include listening to patients' concerns and reading non-verbal cues, conveying their assessments to colleagues, and clearly explaining treatment plans.
Administrative skills. Administrative skills can include filling out paperwork, preparing rooms and beds, and scheduling patient appointments.
Multitasking skills. Multitasking skills can include providing hands-on care for multiple patients while performing phone triage and conducting follow-up calls.
Hospital-Based Nursing
Hospital nurses treat patients with acute conditions in often large hospital settings. A notable difference between clinic vs. hospital settings is that hospital-based nursing focuses more on emergency services and complex conditions that may require a range of different nursing interventions.
Responsibilities
Hospital nurses often must be prepared for many different types of medical cases and emergencies. Their responsibilities include the following:
Taking patient vitals and documenting symptoms
Performing health assessments and monitoring in-patients
Maintaining and updating patient records
Collecting information and samples for diagnosis
Educating patients about treatment plans and prescribed medication
Environment
Hospital settings can be crowded, fast-paced, and hectic as compared to clinics. They consist of multiple departments and wings, such as emergency, medical-surgical, and intensive care services. As a result, hospital nurses may handle various patients and procedures in a given day.
While hospital nurses may provide care for patients over a long period of time, such as days or even months, those relationships are often not ongoing after patients are discharged. However, hospital nurses can deliver necessary care services to those in sometimes critical conditions, providing a high level of job satisfaction.
Hours
Hospital nurses often work long and inconsistent shifts, and they may be on call even when they're not scheduled to come in. For example, hospital nurses may work 12-hour shifts three days per week, including nights and weekends. While this schedule allows nurses to have more days off during the week, it can also contribute to burnout and exhaustion without proper self-care and regulation.
Salary
Salaries for hospital nurses may vary based on the organization and department they work for. According to the BLS, the median annual salary for nurses in state, local, and private hospitals was $76,840 in 2020. This is slightly higher than the median salary for clinic nurses. As the BLS reported, hospital nurses commonly earn higher wages because they have more opportunities for career advancement and mobility in their facility.
Skills
Nurses in hospital settings should possess certain skills for success in their roles, including the following:
Organizational skills. Organizational skills can include delivering care to a range of patients with different healthcare needs and diagnoses.
Critical thinking skills. Critical thinking skills can include monitoring and evaluating patient status and equipment in real time.
Emotional maturity. Emotional maturity can include responding to unexpected and difficult situations, such as emergency healthcare issues and distressed patients and families.
Prepare for Your Career in Nursing
Nurses looking to advance their careers need to understand clinic vs. hospital environments, as well as other settings where they may like to work. This can help them research and distinguish which career path to take, such as which specializations to focus on, which types of positions to pursue, and what their schedules might be.
AdventHealth University Online's Registered Nurse to Bachelor of Science in Nursing (RN-BSN) program is designed to help nurses at varying stages of their careers to become leaders in their field. Since the program is fully online and can be completed in as little as one year, students can earn their degrees while continuing to fulfill their work responsibilities. They can build their knowledge in key areas, such as applied health assessment, nursing informatics, nurse leadership, and community health. With an RN-BSN, nurses can also advance their careers in management roles and provide high-quality care to their patients and communities.
Take the next step in your nursing career with AdventHealth University Online.
Recommended Readings
Nurse Communication: Tips, Tools, and Strategies
RN vs. BSN: Understanding the Difference
The Benefits of an Online Nursing Education
Sources:
CBS News, "Hiring at 'Ambulatory' Health Clinics Surges as People Seek Cheaper Care"
Eisenhower Health, Clinic or Hospital: Which Is the Best Work Environment for You?
Indeed, Clinic Nursing vs. Hospital Nursing: A Definitive Guide
Indeed, What Is a Clinical Nurse?
U.S. Bureau of Labor Statistics, Registered Nurses
Voyage Healthcare, Working in a Hospital vs. Independent Clinic