How to Become a Genetic Nurse Practitioner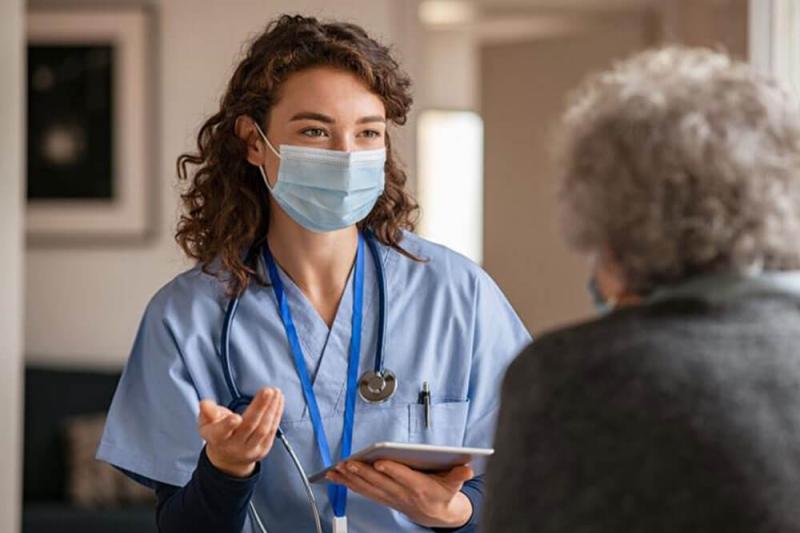 Over the past three decades, genetic testing has become an essential part of health science, identifying genetic connections to diseases such as cancer, Alzheimer's, heart disease, and diabetes.
Recent research shows an ever-increasing number of genetic links to disease, and the demand for genetic counselors has grown in response. Genetic nurse practitioners combine their knowledge of genetic research with the traditional nursing role of care provider and patient advocate.
A Master of Science in Nursing program can provide a strong foundation for nurses looking to advance their careers into roles such as genetic nurse practitioner.
What Is the Role of the Genetic Nurse Practitioner?
Genetic nurse practitioners specialize in researching, testing, and counseling patients on their genetic predispositions toward a variety of diseases. Their job functions include:
Research
Genetic nurse practitioners have a background in genetic research and analysis. They publish articles in both medical and nonmedical publications based on their research. Those who work in a clinical setting (hospital or other care facility) apply their background in research and analysis to their patient assessments and treatments. University research departments and genetics labs also employ genetic nurse practitioners.
Consultation
Patients who look for genetic consultation may have family histories of disease, such as cancer, Huntington's disease, or sickle cell anemia. They may have experienced multiple miscarriages or have a child with a birth defect. Genetic nurse practitioners consult with patients on their specific circumstances. They take a family history and gather data about family illnesses.
Based on their analysis, they may conduct a risk assessment of the patient's situation. As part of that consultation, genetic nurse practitioners may recommend specific genetic testing.
Treatment/Patient Counsel
When the tests come back, nurse practitioners counsel patients and their families on the results. They provide information in layperson's terms and answer questions clearly and empathetically. Depending on the disease and the patient's situation, they will recommend treatment or other courses of action. They will also provide follow-up care.
Prevention
Part of a genetic nurse practitioner's role is advising patients on what to do with the information they receive. If a patient has a genetic predisposition to a disease, nurses can provide information on disease prevention. A patient with a family history of diabetes or heart disease may need advice on diet and exercise. A patient with a family history of breast cancer and found to have a BRCA1 mutation could receive information on preventive breast surgery or a medication such as tamoxifen.
What Are the Requirements to Become a Genetic Nurse Practitioner?
Becoming a genetic nurse practitioner starts with a deep interest in genetics research and the connection to disease and physical conditions. A large part of the job requires research, risk assessment, and analysis. Nurses who specialize in genetic counseling will need the following:
Education
To be able to provide genetic counseling, facilitate testing, and interpret results, nurses must be an advanced practice nurse, which means they need a master's or doctoral degree. Nurses who wish to specialize in genetics may also need to complete additional coursework or conduct specialized research in the field.
Credentials and Certificates
The American Nurses Credentialing Center offers an Advanced Genetics Nursing Certification (AGN-BC), which must be renewed every five years. Other certificates include Clinical Genomics Nurse (CGN) and Advanced Clinical Genomics Nurse (ACGN).
Such certifications confirm that clinical genomics nurses have the training to document family histories, carry out care plans, and provide genetic education. Advanced clinical genomics nurses order genetic testing, develop care plans, and do research and publish articles. They also train other professionals.
Work Experience
Genetic nurse practitioners work in a variety of clinical and research settings. They may specialize in high-risk pregnancy, counseling patients and their partners on their genetic risks. They may work in oncology settings, schools, and hospitals, as well as for insurance companies, where they apply their background in risk assessment and data analysis.
Skills
Nurse practitioners who work as genetic counselors have a variety of strengths. These include:
Research. Whether diving into the latest literature on genetics or collecting data, genetic nurse practitioners enjoy keeping up with current science and adding to the knowledge base.
Interpreting test results. Genetic nurse practitioners must interpret test results accurately to make the best recommendations for patients.
Risk assessment. Genetic testing is all about evaluating a patient's risk of disease. Nurse practitioners must be able to make accurate risk assessments.
Genetic nurse practitioners also must have traditional nursing skills. These include:
Acute care. Many patients who require genetic testing are critically ill and need acute nursing care.
Patient and family counseling. As the point-of-care professional on a medical team, nurses provide patient and family counseling, helping them understand care plans and answer questions.
Compassion. Nurses must be able to communicate information clearly and compassionately to patients who may be in pain or who are fearful and anxious.
Communication. Genetic nurse practitioners must be excellent writers and speakers, as they regularly communicate with peers, such as fellow members of the medical team, researchers, and other experts in their field.
Genetic Nurse Practitioner Salary and Job Outlook
The U.S. Bureau of Labor Statistics estimates the demand for genetic counselors will grow 26% between 2020 and 2030. The median annual salary for genetic counselors was $85,700 in 2020, according to the BLS.
The job outlook and salary for nurse practitioners are even more promising. The median annual salary for nurse practitioners was $111,680 in 2020, according to the BLS, in part because of the advanced education needed. The BLS also projects the demand for nurse practitioners to increase by 52% from 2020 to 2030, a possible result of the rising need for healthcare practitioners in underserved areas.
Chart a New Career as a Genetic Nurse Practitioner
Excited about working on the leading edge of science and healthcare? A career as a genetic nurse practitioner can be a great fit for experienced nurses looking to move into a groundbreaking field. Explore AdventHealth University Online's Master of Science in Nursing program and discover how it can help prepare you for this rewarding profession.
Recommended Readings
BSN vs MSN: Deciding the Right Path for You
Nurse Communication: Tips, Tools, and Strategies
The Benefits of an Online Nursing Education
Sources:
IncredibleHealth.com, "How to Become a Genetic Nurse"
International Society of Nurses in Genetics, "What Is a Genetics/Genomics Nurse?"
International Society of Nurses in Genetics, "What Is a Genetics Nurse?"
Nursing World, "Advanced Genetics Nursing Certification (AGN-BC)"
U.S. Bureau of Labor Statistics, Genetic Counselors
U.S. Bureau of Labor Statistics, Nurse Anesthetists, Nurse Midwives, and Nurse Practitioners