BSN vs MSN: Deciding the Right Path for You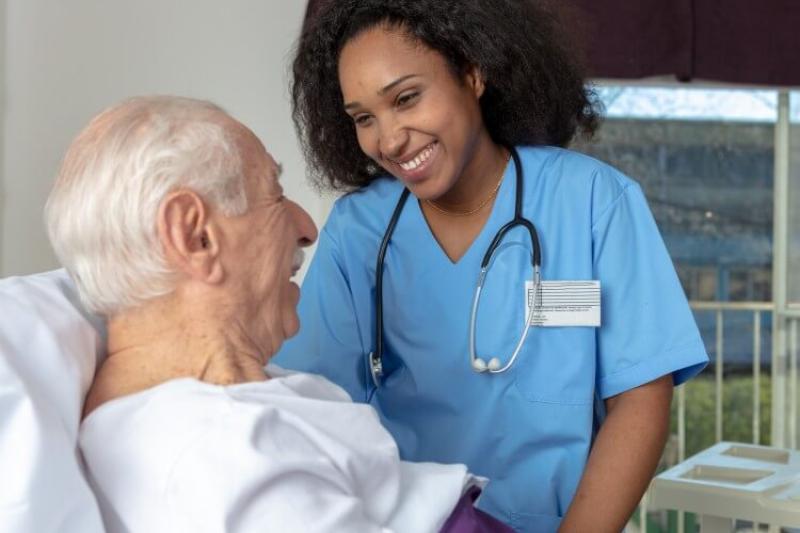 According to the U.S. Bureau of Labor Statistics (BLS), the employment of registered nurses in the United States is expected to grow 7% between 2021 and 2029. This is due in large part to an increased need for medical services by an aging population, as well as a need to care for patients with chronic conditions such as obesity and diabetes. Additionally, hospitals and health clinics will have to continue to replace more experienced nurses as they retire.
Because of the increasing demand for nurses, many healthcare professionals have begun to consider nursing as the next rewarding step in their careers. To obtain certain nursing positions, professionals need to hold certificates and degrees such as a Bachelor of Science in Nursing (BSN) or a Master of Science in Nursing (MSN). For those who are evaluating a BSN vs. an MSN, it is important to understand the distinctions of each degree.
BSN vs. MSN: Definitions and Differences
Both a BSN and an MSN can enable a graduate to practice as a registered nurse (RN). This is a healthcare position in which nurses provide basic care to patients, assist doctors and other practitioners, and may also conduct tests and deliver other types of treatment. The requirements for each RN role can vary, but RNs often start by earning an associate's degree from an accredited university or college. No matter what degree RNs may have, they still need to obtain licensure and pass the National Council Licensure Examination for Registered Nurses (NCLEX-RN).
BSN and MSN programs provide students with valuable nursing skills such as leadership and communication, critical and analytical thinking, and decision-making and organizational abilities.
BSN Program Basics
The BSN provides nurses with more extensive knowledge than an associate's degree. It also opens the door to earning advanced degrees, and obtaining specialized and graduate-level certifications.
BSN degrees provide students and graduates with a firm background in the practices, techniques, and procedures that define nursing. Drilling down deeper into typical BSN programs reveals the following information.
Key Areas of Focus: BSN degree programs cover key and core elements of nursing practices and often provide nurses with the ability to obtain clinical experience.
Typical Course Offerings: BSN curricula often include courses in community health, applied health assessments, anatomy, developmental psychology, nursing informatics, and pathopharmacology.
MSN Program Basics
When considering a BSN vs. an MSN degree, it is important to remember that an MSN degree can only be pursued after earning an undergraduate nursing degree and becoming a registered nurse. Many MSN programs have two-year curricula, although some schools do offer programs that can be completed in one year.
MSN programs can be described as follows:
Key Areas of Focus: In addition to the subject matter covered in a BSN, MSN programs also offer nurses the ability to learn more about advanced nursing topics. MSN students can gain more clinical experience and focus on specialized professional nursing tracks such as Administration, Education, and Advanced Practice.
Typical Course Offerings: MSN programs can include courses in nursing leadership and administration, nursing/healthcare technology, public policy, and healthcare finance, and can provide students with the opportunity to gain hands-on clinical experience and work on specialized projects.
BSN vs. MSN Skills: What Are the Differences?
The Commission on Collegiate Nursing Education (CCNE, an autonomous organization created by the American Association of Colleges of Nursing) is an accrediting organization for nursing programs. CCNE's requirements for nursing program accreditation help demonstrate the differences in the skills that graduates of BSN and MSN programs can acquire.
For a baccalaureate program such as the BSN, the CCNE requires the program to prepare students for generalist nursing practice in areas such as:
Conducting comprehensive and focused physical, behavioral, psychological, spiritual, socioeconomic, and environmental assessments of health and illness
Implementing wholistic, patient­-centered care
Communicating with members of a healthcare team
Monitoring client outcomes to evaluate interventions
Creating a safe environment that leads to high-quality outcomes
Developing a beginning understanding of complementary and alternative modalities
In contrast to the skills acquired through a BSN program, the skills typically acquired through an MSN program are more advanced, and many of them highlight leadership competencies. For a master's program such as the MSN, the CCNE requires the program to prepare students for master's-level nursing practice in areas such as:
Using leadership skills to provide mentorship to other members of a healthcare team
Using knowledge of disease management and illness to carry out responsibilities such as designing programs of care
Designing, implementing, and evaluating health education programs
Developing therapeutic relationships to negotiate different modalities of care
Integrating a personal philosophy into nursing practice
Using epidemiological data to make inferences regarding a patient population's health status
Typical Career Paths for BSN and MSN Graduates
According to a study by Avant Healthcare Professionals titled 2020 Trends in Nurse Staffing, the highest demand for nurses spans certain clinical areas. These include the medical-surgical, emergency room (ER), operating room, and intensive care unit (ICU) fields or departments. The study also indicates hospitals have been using travel nurses as a cost-effective solution to the nursing shortage.
Nurses with either BSNs or MSNs can become travel nurses and can work as emergency room nurses and ICU nurses. Hospitals and clinics, though, may find candidates who hold an MSN degree to be more competitive for these roles than those who hold a BSN.
Specific career opportunities usually become more available to professionals with an MSN degree. Below are positions that may be open to MSN degree holders.
Nurse Instructors, Teachers, and Educators: These are professionals who teach nursing at universities and colleges, and in other educational environments.
Family Nurse Practitioner: These professionals are trained across various healthcare areas and are able to provide a range of primary care and services to individuals, young and old alike.
Nurse Administrator: These professionals help organize and maintain a nursing department within a particular facility and ensure that staff abides by all necessary codes and guidelines.
For a nurse who may not be interested in pursuing an advanced specialty, the BSN degree can lead to a rewarding and fulfilling nursing career. For those who are interested in more advanced positions and the opportunity to obtain leadership roles, holding an MSN will often be a requirement and may also be generally helpful in becoming a more competitive candidate for other nursing jobs.
When deciding between a BSN and an MSN, nurses may wish to also take tuition costs into account. For nurses who know they want to pursue more advanced roles, many of which are associated with higher salaries, that additional investment in pursuing an MSN can be worth it.
BSN vs. MSN Salary Information
When evaluating career opportunities, it's important to be aware of BSN and MSN salary information. For example:
Nurse Instructors, Teachers, and Educators: The BLS reports that nursing instructors earned an annual median salary of $75,470 in 2020. Nursing instructors at colleges, universities, and professional schools earned an annual mean salary of $84,320. Professionals can also become nurse educators who work in hospitals, helping teach nurses valuable skills and healthcare competencies. According to the BLS, the mean salary for this role was around $119,050.
Family Nurse Practitioner: According to the BLS, the median salary for nurse practitioners was around $111,680 as of 2020.
Nurse Administrator: The 2020 median salary for medical and health services managers, positions similar to that of nurse administrator, was $104,280, according to the BLS.
Pursuing the Degree That's Right for You
Ultimately, both a BSN and an MSN degree are invaluable to nurses as they progress through their careers. Both degrees provide an advanced understanding of the field and can help professionals stay competitive for many nursing positions. An MSN degree is very beneficial, if not required, for several advanced, educational, and leadership roles in nursing.
Individuals who are interested in pursuing nursing can explore the online Bachelor of Science in Nursing (RN-BSN) and Master of Science in Nursing degrees at AdventHealth University.
Discover your best educational path for a rewarding nursing career today.
Recommended Readings
The Fastest Growing Healthcare Careers
Registered Nurse Responsibilities
Tips for Registered Nurses Applying to Nursing School
Sources:
American Association of Colleges and Nurses, The Essentials of Baccalaureate Education
for Professional Nursing Practice
American Association of Colleges and Nurses, The Essentials of Master's Education
American Association of Colleges and Nurses, Standards, Procedures and Guidelines
Baccalaureate and Graduate Programs, CCNE Standards and Procedures
Avant Healthcare Professionals, "2020 Trends in Nurse Staffing"
U.S. Bureau of Labor Statistics, Medical and Health Services Managers
U.S. Bureau of Labor Statistics, Nurse Anesthetists, Nurse Midwives, and Nurse Practitioners
U.S. Bureau of Labor Statistics, Nursing Instructors and Teachers, Postsecondary
U.S. Bureau of Labor Statistics, Registered Nurses
PayScale, Average Family Nurse Practitioner (NP) Salary