MHA vs. MBA: What are the Differences?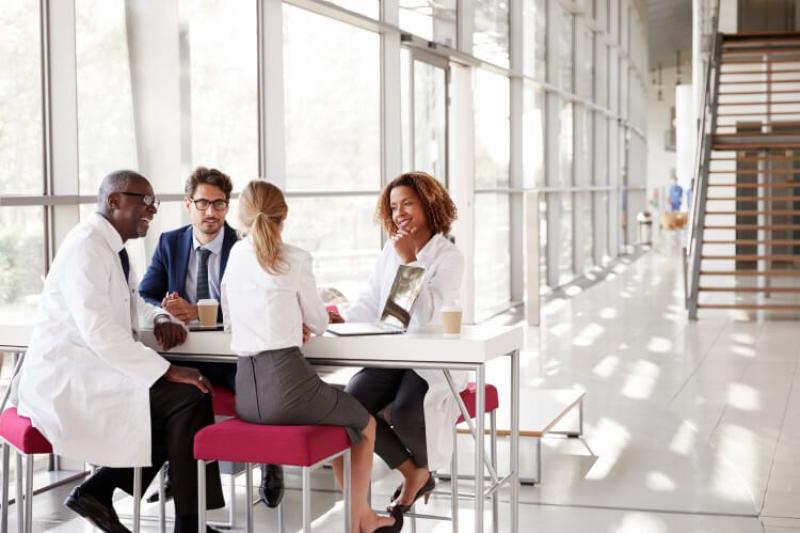 The healthcare industry is one of the fastest growing in the U.S. The number of healthcare jobs is expected to increase by 15% by 2029, meaning that there will be 2.4 million new healthcare jobs by that year.
If you already work in healthcare, you might be interested in finding ways to advance in your field and  move up the career ladder. Earning a master's degree is one way to expand your career options and to increase your earning potential, as well as improve your skill set and marketability.
As you start to investigate master's degree programs designed for healthcare managers and executives, you might notice two options available. One is an MHA, or Master of Healthcare Administration. The other is an MBA, or Master of Business Administration. If you're going to work in healthcare and considering an MHA vs. MBA, which one is a better path for your future? Knowing the differences between the two degrees and what your career goals are can help you choose the one that's the best fit for you.
What Is an MHA?
An MHA degree is a graduate-level degree that's designed to help people become leaders in the healthcare field. Typically, people who pursue an MHA degree are already working in healthcare. They might be clinicians who are looking to transition to an administrative or executive role or people working in administration who would like to move up to management or executive-level positions.
The focus of most MHA programs is specific to healthcare. The courses offered in an MHA program might include the following:
Strategic Leadership in Healthcare
Patient Care Management
Healthcare Finance
Healthcare Strategic Planning and Decision-Making
Ethical Issues and Public Policy
Career Outcomes for MHA Graduates
Professionals with an MHA degree often choose to go into medical and health service management. The U.S. Bureau of Labor Statistics (BLS) notes that there were about 422,300 jobs for medical and health service managers in 2019. Most of these professionals worked full time; 33% worked in hospitals while 12% worked in physicians' offices. Career outcomes include healthcare consultant, health services manager, hospital administrator, financial manager, medical records manager, nurse manager, and nursing director.
What Is an MBA?
Although the scope of many MBA programs is broad, some do allow students to specialize in fields such as healthcare. If an MBA program has a healthcare specialization, you'll likely take the same general courses as students in other specializations, then enroll in electives that cover topics of concern to the healthcare industry.
The courses you're likely to encounter in an MBA program include the following:
Marketing Decision-Making
Organizational Theory and Behavior
Statistics and Modeling
Financial and Managerial Accounting for Managers
Managerial Decision Analysis
Technology for Business Transformation
Career Outcomes for MBA Graduates
Individuals with an MBA and interested in healthcare careers can consider management or administrative positions that revolve around healthcare's business aspects. Many professionals choose to work toward the following positions: CEO, chief operating officer, clinic manager, division director, department manager or supervisor, and facility manager. They may also pursue similar job opportunities as MHA graduates, such as in hospital administration and health service management.
How Do You Enroll in an MHA or MBA Program?
The requirements for earning an MHA or MBA may be slightly different. It's also worth noting that specific admission requirements can vary from school to school and from program to program. Some MBA programs will only consider applicants who've taken the Graduate Management Admission Test (GMAT) or Graduate Record Examinations (GRE) while other programs don't require test scores.
Many MBA programs also require you to have already earned a bachelor's degree by the time you begin the program. The same is occasionally true of MHA programs. Some MHA programs will accept students who've earned an associate degree and not a bachelor's degree. Usually, people with an associate degree will need to take bridge courses before they begin the official MHA program.
MHA vs. MBA in Healthcare
An MHA is a specialist degree, while an MBA is most often a generalist degree. Individuals who specifically want to pursue administrative roles in healthcare might consider an MHA; those who are interested in healthcare but also want to develop skills applicable to other industries might consider an MBA. No single answer exists for deciding between an MHA or MBA for healthcare. It depends on an individual's career goals.
Graduate students can enroll in an MBA program no matter what industry they work in or are interested in. On the other hand, many MHA programs expect students to have some experience in healthcare before they're admitted to the program. That's particularly true when students are admitted to an MHA program without a bachelor's degree.
MHA vs. MBA Salary and Skills
When individuals are considering an MHA or MBA, exploring the salary ranges of both career paths can help with the decision-making process. According to September 2020 data from PayScale, professionals with an MHA degree earn an average annual salary of about $77,500. This salary can vary based on healthcare setting and specific occupation. Professionals with an MBA degree earn an average annual salary of about $88,400. This salary can also vary based on industry, employer, and career.
According to the BLS, individuals who work as medical and health services managers — a popular profession for those with either degree interested in health administration — earned a median annual salary of $100,980 in 2019. Those in the lowest 10th percentile earned less than $58,820, while some professionals earned more than $189,000. Necessary skills associated with careers in medical and health service management are verbal and written communication, analytical and critical thinking, interpersonal skills, technical knowledge, leadership and management experience, and attention to detail.
Making a Decision: MHA vs. MBA
While an MBA is the clear choice for some students and an MHA is the obvious pick for others, you might find that both options are appealing to you. You might want to help shape healthcare's future, but also develop skills that will help you succeed in any business environment. With AdventHealth University Online, you can have the best of both worlds. We've recently partnered with Stetson University to create a dual MHA/MBA program, which is 100% online.
Upon completing the program, you'll walk away with two degrees, a Master of Healthcare Administration in Strategy and Innovation (MHA-SI) from AdventHealth University Online and an MBA from Stetson University. The dual degree will help you prepare for a variety of job opportunities and will give you a competitive edge over similar candidates who have just an MBA or just an MHA.
Another benefit of the dual-degree program is that you can finish it in about the same amount of time it would take you to earn a single degree. You can earn an MHA/MBA in just two years, with 54 credit hours. The combined degree also costs a lot less than two separate master's degrees.
If you're ready to continue your education and don't want to limit yourself to deciding between an MHA or MBA, the dual degree might be just right for you. Learn more about AdventHealth University Online's innovative MHA/MBA dual-degree program and how you can pursue a rewarding career in healthcare.
Recommended Readings
How to Become a Financial Manager in Healthcare
How to Become a Hospital Administrator
What Do Healthcare Administrators Do?
Sources:
Investopedia, "What Is the Average Salary for an MBA Graduate?"
PayScale, Master of Business Administration (MBA) Degree
PayScale, Master of Health Administration (MHA), Health Care Administration Degree
U.S. Bureau of Labor Statistics, Healthcare Occupations
U.S. Bureau of Labor Statistics, Medical and Health Services Managers
Vault, "Career Opportunities for MBA Graduates in Healthcare: Discover Your Path"