Sonographer Job Outlook, Salary, and Description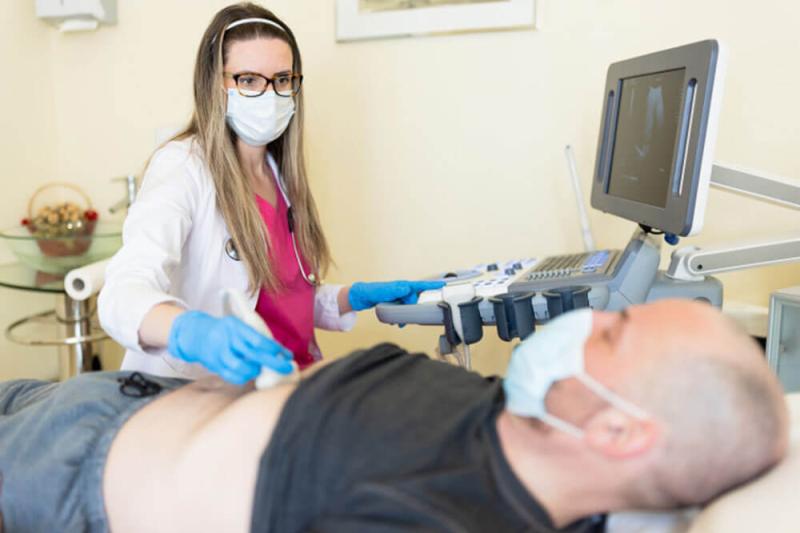 By 2030, 1 in 5 Americans will be retirement age, according to the U.S. Census Bureau. As the U.S. population ages, the sonographer job outlook grows more promising. Sonography will likely be needed most for first-line monitoring of musculoskeletal issues (injuries in the joints) and common illnesses such as heart disease and cancer. Sonographers are healthcare professionals who specialize in the use of ultrasound equipment, which use sound waves to produce images that visualize internal organs in the body. These images help doctors diagnose and treat medical conditions that might otherwise be difficult to detect without surgery. Students who want to help patients by working with ultrasound technology may thrive in the field of sonography. Credentialed sonographers looking to advance in the field of sonography may want to consider enrolling in a Bachelor of Science in Imaging Sciences program with a Sonography Specialty Track.
Sonographer Job Description
While many people may associate ultrasound procedures with pregnancy, specifically prenatal ultrasounds to determine a baby's health in utero, sonography expertise spans many different specialties.
Diagnostic Medical Sonographers
Diagnostic medical sonographers create images of the body's organs and tissues. These sonographers use an ultrasound transducer to emit pulses of sound into parts of the patient's body, which then bounce back as echoes to be read by an ultrasound machine. Physicians can use the resulting image produced by the ultrasound machine for diagnostic purposes.
Sonography Specializations
Professionals in the field of diagnostic medical sonography may pursue the following specializations:
Abdominal sonography focuses on organs in the center of the body, such as the gallbladder, kidney, and liver, and may assist with biopsies.
Breast sonography focuses on breast tissue and can confirm the presence of tumors or cysts. Sonographers in this specialization work closely with physicians to screen for breast cancer or track tumor growth.
Cardiac sonography (echocardiography) focuses on imaging the heart's valves, chambers, and vessels while the patient rests or after the patient has been physically active.
Musculoskeletal sonography focuses on the muscles, ligaments, tendons, and joints. These professionals can assist during surgical procedures to deliver medication directly to affected tissues.
Pediatric sonography focuses on infants and children to check for and monitor premature birth issues or birth defects.
Obstetric and gynecologic sonography focuses on the female reproductive system.
Vascular sonography (vascular technology) focuses on blood vessels to create images that help physicians evaluate blood flow and identify blocked arteries.
Roles and Responsibilities
According to the U.S. Bureau of Labor Statistics (BLS), diagnostic medical sonographers typically perform some of the following roles and responsibilities:
Performing intake of a patient's medical history and explaining the procedure
Supporting patients through the process of imaging and/or testing by answering questions about the procedure
Operating ultrasound equipment to produce high-quality diagnostic images
Reviewing test results or images for quality and coverage, taking additional images as needed
Identifying normal and abnormal findings
Analyzing and summarizing diagnostic findings for physicians
Recording findings on patients' records
Maintaining diagnostic imaging equipment, including ultrasound machines and transducers
Work Settings for Sonographers
Most diagnostic medical sonographers work full time in hospitals, while others work in physician offices or medical and diagnostic imaging centers. The BLS found that among the 75,900 diagnostic medical sonographers employed in 2020:
60% worked in hospitals (local, state, or private)
20% worked in physician offices
11% worked in diagnostic laboratories
4% worked in outpatient care centers
Sonography requires physical stamina. Diagnostic medical sonographers must operate and hold equipment steady for long periods of time in dimly lit rooms. They may need to stand for long periods and may need to lift or turn patients with mobility challenges to take suitable diagnostic images. Most diagnostic imaging workers work full time. Some sonographers work overnight, evenings, or weekends at facilities with extended hours.
Imaging Opportunities: Sonographer Job Outlook
As a tool for diagnosis, sonography is low-risk and noninvasive. Ultrasounds have a wide range of applications, from helping parents check the health of a baby in utero to locating blood clots.
Sonographer Salary
The BLS found that in 2020, the median annual wage for diagnostic medical sonographers was about $75,920. Salaries for sonographers can vary depending on location, education and experience levels, and other factors.
Sonographers Needed: Projected Job Openings for Medical Imaging Professionals
Since sonography is safe and relatively affordable compared with radiation imaging techniques, the field continues to grow at a faster pace than other occupations. The BLS projects sonography to grow 19% from 2020 to 2030, much faster than the average occupational growth, adding around 14,000 positions. Drivers of this growing demand include the older generation of sonographers leaving the workforce for retirement, says the BLS.
Why Earn a Bachelor of Science in Imaging Sciences (BSIS)?
A Bachelor of Science in Imaging Sciences can serve as a method to career advancement for credentialed sonographers. AdventHealth University Online's program is open to current ultrasound technologists with an associate degree from a program accredited by one of the following bodies:
Joint Review Committee on Education in Radiologic Technology (JRCERT)
Commission on Accreditation of Allied Health Education Programs (CAAHEP)
Successful applicants to the AdventHealth University Online bachelor's in imaging sciences sonography program should also hold current credentials from, and be in good standing with, one of the following organizations:
American Registry of Radiologic Technologists (ARRT)
Nuclear Medicine Technology Certification Board (NMTCB)
Cardiovascular Credentialing International (CCI)
American Registry for Diagnostic Medical Sonography (ARDMS)
Advance Your Career as a Sonographer
Can you imagine a career using ultrasound technology to help patients? With a degree in sonography, you can support patients and physicians with expertise in medical imaging. The Sonography Specialty Track in AdventHealth University Online's Bachelor of Science in Imaging Sciences program (BSIS) offers credentialed sonographers opportunities to further their careers. Only around 17% of sonographers currently hold a bachelor's degree, so this program may give graduates an advantage over other job applicants in this rapidly growing field. Learn more about the Bachelor of Science in Imaging Sciences program and its Sonography Specialty Track to pursue an advanced career as a sonographer today.
Recommended Readings:
MRA vs. MRI: What Are the Differences and Uses?
What Is Vascular Interventional Radiology?
Sources:
American Registry for Diagnostic Medical Sonography, Careers in Sonography
Business Insider, "The Aging US Population Us Creating Many Problems — Especially Regarding Elderly Healthcare Issues"
Mayo Clinic, College of Medicine and Science, Diagnostic Medical Sonographer
PayScale, Diagnostic Medical Sonographer
U.S. Bureau of Labor Statistics, Medical Sonographers and Cardiovascular Technologists and Technicians
U.S. Bureau of Labor Statistics, What Medical Sonographers and Cardiovascular Technologists and Technicians Do