RN Called to Advance Her Career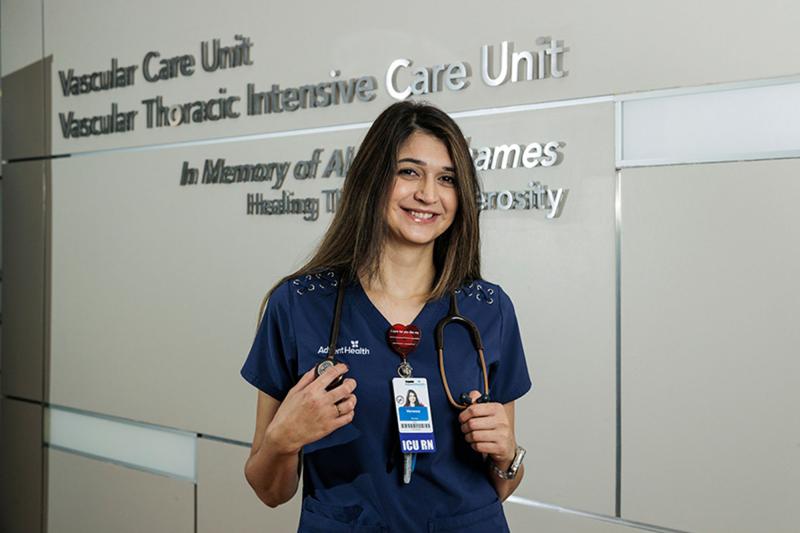 As a registered nurse in the Vascular Thoracic Intensive Care Unit at AdventHealth Orlando, Vanessa Pereira sees patients and families on some of the most difficult days of their lives.
"I went straight from nursing school to working in the ICU because I really love that you can get into very detailed care of a patient," she said.
Vanessa understands what it's like to be in the hospital and frightened. At age 26, she was rushed into an emergency cesarean section, indicated by pre-eclampsia brought on by her Sjogren's syndrome. "As you can imagine, I was really scared. But I had a nurse who was so incredible. She changed her schedule with another nurse so she could stay with me. She was so, so, so kind and could read my mind. My mom and I hugged her and cried. I gave her a little gift."
A self-described science lover, Vanessa wanted to create that same experience for others who are sick or injured. So, she went to nursing school, became a registered nurse and began working for AdventHealth a year ago, and she has big dreams.
"I want to be able to influence people in a more permanent way," said Vanessa, who yearns to become a mental health nurse practitioner. Her professional journey continues this summer as a student of AdventHealth University's RN to BSN program. Vanessa chose AHU for its full tuition coverage for AdventHealth RNs as well as its fully online format that allows her to continue working. She also is drawn to the school's faith-affirming environment.
"I really like that at work and at school we start the day with prayer. I really like the way it makes me feel. It makes my day go better," said Vanessa, who plans to graduate from AHU in fall 2024.
Learn more about AdventHealth University's online RN to BSN program or three-year accelerated BSN program.
Recent News
Academics

AdventHealth University is pleased to begin offering an Associate of Science in Nursing degree, with its first cohort set to begin Spring 2024.

Alumni

Britney Benitez, Chief Nursing Officer at AdventHealth Orlando, found her way to AdventHealth University's nursing program and felt immediately comfortable.

Nursing

AdventHealth University is one of 26 schools in Florida to receive grant funding through Florida's new Linking Industry to Nursing Education (LINE) Fund.