How to Become an MRI Technologist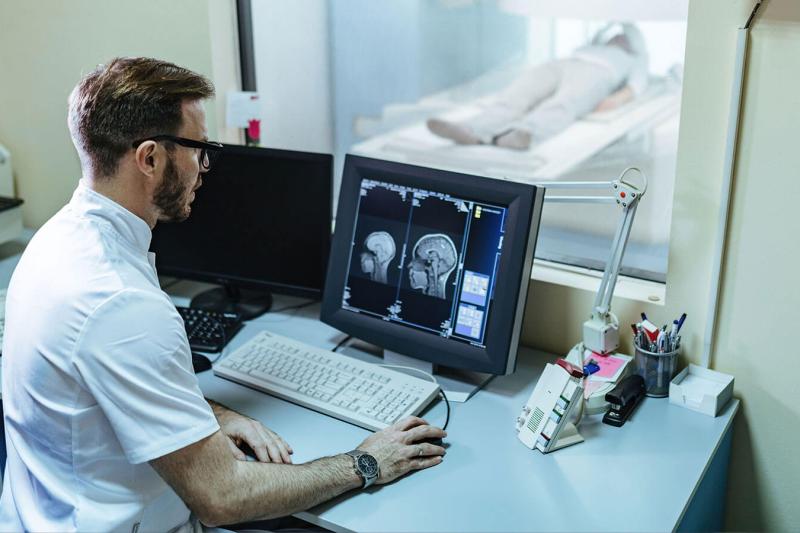 In 2018, 38,540 individuals worked as Magnetic Resonance Imaging (MRI) technologists, according to the Bureau of Labor Statistics (BLS). MRI technologists play an integral role in the field, working with physicians to provide diagnostic care for patients of all ages.
Like any career in the medical field, imaging technologists can benefit from furthering their credentials and gaining more experience. Individuals interested in becoming an MRI technologist, such as current ARRT-certified radiologic technologists or NMTCB-certified nuclear medicine technologists, should consider pursuing a Bachelor of Science in Imaging Sciences to advance their careers.
What Does an MRI Technologist Do?
MRI technologists work in radiology departments and manage the use of magnetic resonance imaging scanners (MRIs), which use radio waves as well as a magnetic field to create images of a patient's organs and tissues. MRI scans are used to diagnose patients with tumors, joint pain, cysts, stomach pain, breast and liver cancer, pelvic pain, heart problems, and other medical issues.
When working with a patient, MRI technologists have several key responsibilities. They must not only understand how to operate the equipment properly, but also how to position the patient in the scanner to get an ideal image of the affected area. During the scan, MRI technologists manipulate several imaging parameters to acquire high-quality images, and may also administer intravenous contrast media for some exams. After patients have been scanned, MRI technologists send the images to physicians so they can diagnose and treat the patients.
Necessary Education and Skills
MRI technologists play an important role in healthcare, and those interested in the role begin in the field of radiology. To become an MRI technologist, students can begin by earning an associate's degree or a bachelor's degree in radiography or radiologic sciences accredited by the Joint Review Committee on Education in Radiologic Technology (JRCERT). After completing the degree, students must sit for the American Registry of Radiologic Technologists (ARRT) credentialing exam to become a certified Radiographer. Likewise, students who have gone through an associate or bachelor's degree program in nuclear medicine technology and obtained certification through the Nuclear Medicine Technology Certification Board (NMTCB) are also able to pursue certification as an MRI technologist.
To prepare for advanced certification as an MRI technologist, imaging technologists can complete structured education and clinical training to meet the requirements of either the ARRT or the American Registry of Magnetic Resonance Imaging Technologists (ARMRIT).
While MRI technologists aren't required to complete multiple years of education in order to qualify for jobs, education and experience still play an important role. Through coursework and clinical experience, MRI technologists develop the following essential skills:
Technical skills when operating MRI scanners and producing images
Organization and attention to detail when following radiologists' instructions to capture accurate images
Mathematical knowledge to calculate the correct contrast media dosage
Interpersonal skills and empathy when working with patients who may be anxious about entering an MRI scanner
Communication skills for conveying information to patients at all stages of the scanning process and to doctors before and after a procedure
Critical thinking capabilities when determining what images need to be captured and the best approach to achieve high-quality images
Experience, Salary, and Job Outlook
Students who want to know how to become an MRI technologist are often curious about where MRI technologists work. According to the BLS, since MRI technologists have an integral role in the diagnostic process, 59% work in hospitals. MRI technologists can also work in outpatient imaging centers and facilities. About 20% of MRI technologists work in other medical environments, such as medical and diagnostic laboratories that specialize in producing MRI scans. Certain physician specialists, like orthopedists and neurologists, have MRI scanners in their offices, which offers another employment opportunity for MRI technologists.
Gaining experience is an important aspect of becoming a qualified MRI technologist. Individuals can begin by working as radiologic technologists or nuclear medicine technologists. Many MRI technologists begin their careers in hospitals and outpatient imaging centers, and can work their way into more specialized fields, including research laboratories.
The median annual salary of MRI technologists was $72,230 in 2018, according to the BLS. Salaries can vary based on experience and location. For example, the BLS reports that the annual median salary for MRI technologists working in outpatient care centers in 2018 was $86,740. As with most jobs in the field of healthcare, the job outlook for MRI technologists is positive. The BLS projects the field will grow 9% between 2018 and 2028.
Pursue a Career as an MRI Technologist
With a positive job outlook for the future and a higher salary than many jobs available to those with an associate's degree, a career as an MRI technologist is a promising one. Those who are already working as radiologic or nuclear medicine technologists or who have an associate's in radiography or nuclear medicine and are interested in advancing their imaging careers should consider AdventHealth University Online's Bachelor of Science in Imaging Sciences Magnetic Resonance Imaging (MRI) Specialty Track. Learn more about how AdventHealth University Online can help you pursue your professional goals as an MRI technologist today.
Recommended Readings
Health Imaging for Women: Medical Applications, Benefits, and Careers
Exploring Sonography Careers: How to Become a Cardiac Sonographer
7 Patient Care Tips for Imaging Technologists
Sources:
American Registry of Magnetic Resonance Imaging Technologists, Join the American Registry of Magnetic Resonance Imaging Technologists
Bureau of Labor Statistics, Magnetic Resonance Imaging Technologists
Centers for Disease Control and Prevention, Healthcare Workers
Houston Chronicle, "Job Duties of an MRI Technologist"
Medical News Today, "What to Know About MRI Scans"