How to Become a Registered Nurse (RN)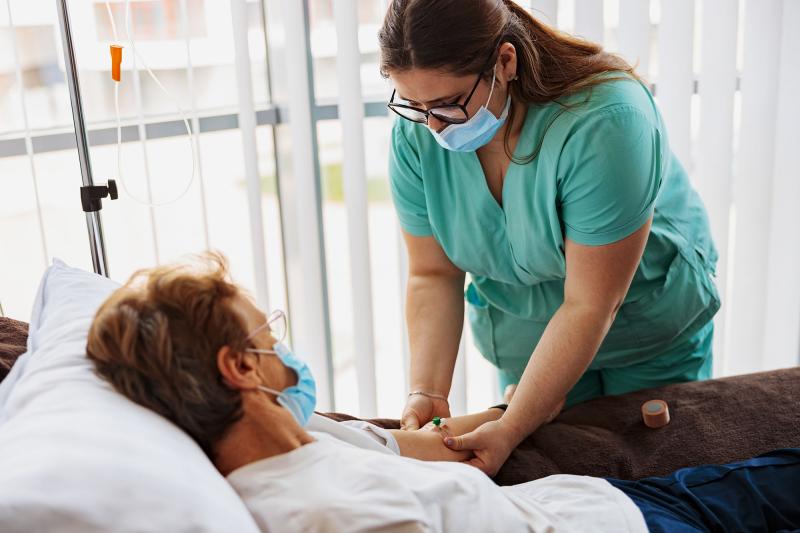 Whether you're about to start your education and looking for guidance or changing career paths, the road to becoming a registered nurse can sometimes feel overwhelming. No matter where you find yourself, AdventHealth University can help you start your journey.
Becoming a registered nurse or RN is an excellent place to enter the medical field, with plenty of exposure to a variety of situations that help build you up as a medical professional. Many who start as registered nurses will advance their careers and education to higher positions such as nurse practitioner.
Here, we'll review what it means to be a registered nurse and any education, training, or licensing that may be required for you to become an RN.
What is a Registered Nurse?
As an RN, you'll be a vital part of any team of medical professionals. As a member of the health care community, your role within your team will be determined by the size and scale of the team you work with, and because of that, you'll need to be ready to handle various situations.
On any given day, registered nurses can find themselves performing the typical functions that come to mind when you think about a nurse's responsibilities. RNs conduct medical procedures such as the collection of patient samples for lab work, wound care, and administering the necessary medications and treatment to aid in patient recovery. At other times, they can perform more administrative tasks such as noting patient symptoms and medical information and recording them in their files. Nurses also teach patients and their loved ones about their care plan and guide them through each treatment.
Registered Nurse Salary
As of 2021, the median salary for a registered nurse in the United States is $77,600 per year or $37.31 per hour. Though, pay will vary based on experience and the candidate's location.
Where do Registered Nurses Work?
Most recent data shows that most registered nurses work in hospitals with ambulatory health care services, nursing, senior living facilities, and government and educational services filling in the remainder.
While nurses can remain in the same position for extended periods, they may also travel to assist facilities and communities where health care resources are scarce.
How to Become a Registered Nurse
To become a registered nurse, follow these three steps:
Receive the necessary education, in most cases, a bachelor's degree.
Pass the NCLEX Examination.
Obtain the proper licensing for your state.
Education
When it comes to education, potential RNs need to complete either an associate's degree, bachelor's degree, or a diploma from an approved nursing program. In all circumstances, candidates must complete the necessary examination and receive the proper licensing before working in the medical field.
Nursing programs will include courses covering physiology, anatomy, psychology, microbiology, and other social and behavioral sciences. Those who obtain a bachelor's degree may also have to complete coursework to improve communication, leadership, and critical thinking.
Whether you obtain an associate's or a bachelor's degree, the program will be directly related to nursing, such as an ASN or BSN, and typically take four years to complete.
Other programs and degree types, such as an ADN, can be more specialized and only require two to three years to complete. Each program, regardless of which, will include supervised clinical experience.
In most cases, those with any level of nursing degree should be able to begin their career as staff nurses. Hospitals, however, tend to require applicants to earn at least a bachelor's degree.
Nurses looking for a higher level of education may also look to earn a master's degree. Some programs may even offer accelerated coursework for those with experience in the field, with employers offering tuition reimbursement for them to advance their education. .
Specialized nurses, such as clinical nurse specialists, are required to have a master's degree and at least one year of experience as registered nurses. More advanced CNSs, who perform research. will be required to earn a doctoral degree.
Examination
After earning a nursing degree, potential RNs will be required to pass the National Council Licensure Examination for Registered Nurses, sometimes known as the NCLEX or NCLEX-RN.
The National Council Licensure Examination for Registered Nurses was created to test your knowledge in key areas of the nursing field. Passing the exam is critical, with those who fail the exam being unable to start their nursing career and having to wait 45 days to take the test for a second time.
Due to the importance of the exam, you must research your educational program's pass rate for the NCLEX exam, as it may reflect the overall preparedness of its students once they graduate.
State Licensing
In addition to receiving a degree in nursing and passing the NCLEX, final requirements for licensing vary by your state. In most cases, a background check will be required, though individual state licensing requirements can be found by visiting the National Council of State Boards of Nursing's website.
Additional Training
As previously noted, those interested in advancing their education may look into a bachelor's or master's degree nursing program, though other training options are available.
Registered nurses may also receive specialized training in specific areas, including ambulatory care, gerontology, or pediatrics. In most circumstances, RNs may be required to earn certifications in cardiopulmonary resuscitation (CPR), basic life support (BLS), or advanced cardiac life support (ACLS).
As always, it is essential to check with your state's board to adhere to the proper certification and licensing requirements.
Getting Started on Your Path to Becoming a Registered Nurse
If you have compassion for people and a passion for health care, becoming a registered nurse can be a great start to a long career. In our accredited Bachelor of Science in Nursing program, you'll be taught by highly skilled nursing faculty members with real-world experience, and our Bachelor of Science in Nursing (RN-BSN) program offers an opportunity for nursing students to complete a bachelor program in as quickly as one year, all online.
Recommended Readings
Tips for Registered Nurses Applying to Nursing School
BSN vs MSN: Deciding the Right Path for You
Registered Nurse Responsibilities
Sources
Registered Nurses : Occupational Outlook Handbook: : U.S. Bureau of Labor Statistics