Walking Buddies Program Impacts Occupational Therapy Students as Much as Patients
One of the most important skills of an Occupational Therapy Assistant is to be able to relate to patients and find ways to motivate them to push through mental and physical challenges.
AdventHealth University has found a unique way to help students learn those skills to become compassionate caregivers.
AHU asks its students to complete the Walking Buddies program to learn those interpersonal skills and earn their Occupational Therapy Assistant degree. The program is so effective that many students find they continue walking with their partners long after their Geriatric Occupational Therapy course ends.
Kenny Torres Cruz grew to look forward to his walking adventures with Rafael, his 80-something walking partner, fellow congregant and now friend. Kenny, who earned his OTA degree from AdventHealth University in 2020, chose Rafael because the older gentleman spent the majority of each day caring for his bedridden wife and was a cancer survivor who not only needed the physical activity but also a social outlet.
"I met him at church. He seemed forgotten about by everyone, and so I started talking with him about his life. He loved our walks. You could tell he needed the company."
Rafael had survived back cancer and lung cancer and the chemotherapy and surgeries that went along with them, so the walking proved therapeutic. Because Rafael took care of his wife during normal waking hours, Kenny and Rafael often walked in the wee hours of the morning.
"We walked at 3 or 3:30 in the morning. It's rough to walk at that time, but I made the exception," Kenny said.
The pair walked twice a week, sometimes three times if Rafael was up to it. They started at Rafael's house in Apopka, walked to Rock Springs Road and through the old hospital – about 4 miles.
"He was something else. He walked faster than me," Kenny said. 
The conversation made the time fly, and Kenny is so grateful that he soaked up his walking buddy's wisdom. Rafael recently died from brain cancer.
"His knowledge, his stories," said Kenny, who is 37 and has three children. "We're just chatting. I'm listening to him. He shared life experiences, mistakes he made."
Kenny found Rafael's devotion to his wife moving. "He inspired me to do the same, to take care of my wife and provide unconditional love. I want to replicate that."
The Walking Buddies program, Kenny said, goes beyond clinical training. "It connects the newer generation with the older generation. They have different lifestyles; you get a different understanding. You absorb some of that experience into your own life. I feel like it's giving back to the older generation we tend to neglect because we get busy."
Walking Buddies, which started as a head-injury prevention program through a Winter Park Health Foundation grant, allows students to choose or be assigned their elderly or ill buddies. Students must fill out a questionnaire about their buddies' history of falls, arthritis, risk factors, and past and current work and leisure histories. Each buddy is offered a free home assessment completed by the student supervised by an Occupational Therapy faculty member. 
"The initial assessment helps students find out if there are any underlying medical conditions and to determine their mobility and fall risk and activity level," said Vicki Case, MS Ed., OTR/L, Occupational Therapy Assistant Program Director for AdventHealth University. "A big part of occupational therapy is wellness and prevention. We want people to age in place as long as they can."
The walking regimen is left to up to the students and their buddies.
"Walking Buddies helped prepare us to treat patients from a wholistic perspective," said Kenny, who is working on his Bachelor's degree in Biomedical Sciences and serves as Occupational Therapy Lab Manager for AHU. "The Walking Buddies program teaches students to care for others not only physically but from a psychosocial perspective. It teaches the importance of listening and nonverbal communication."
Mostly, Kenny said, Walking Buddies gave him the opportunity to meet Rafael. "I kept in contact with him after I graduated. I grew as a person because of him." 
Become an Occupational Therapy Assistant or Occupational Therapist
Occupational therapy assistants help patients rebound from life's obstacles. Dedication to recovery, along with uncommon compassion and connection with patients, can lead to a life of immeasurable impact for patients. Learn more about AdventHealth University's Occupational Therapy Assistant program and Master of Occupational Therapy program. 
Related News Stories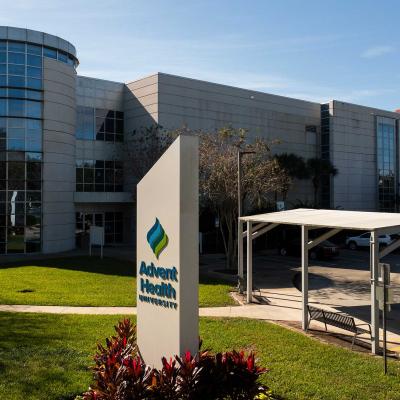 News
A list of the students who earned academic honors during the Fall 2022 trimester.